Why QMetry Test Management over Zephyr Enterprise?
As a continuous quality vendor, QMetry knows the importance of being agile to keep up with market trends and customer demands. QMetry Test Management is an end-to-end test management tool with features such as exploratory testing, versioning and advanced reporting, it takes your test management to the next level.
Top Reasons to migrate from Zephyr to QMetry
On the other hand, users of Zephyr Enterprise face several usability, reporting, BDD implementation and user on-boarding challenges. Both our internal survey and review sites show that there is growing restlessness among users of Zephyr due to ongoing challenges and the tool's inability to respond to client feedback. If you are struggling with Zephyr Enterprise and wish to migrate to a better testing experience and scale up to continuous testing, then QMetry is the most viable solution.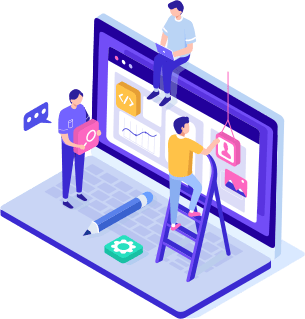 User Friendly interface
Our research shows that users of Zephyr do not find GUI to be intuitive and simple. The UI is too complicated. Even a simple operation such as creating a test asset is time and labour-intensive. One reason for this is because a simple operation requires too many clicks. The navigation lacks intuitiveness, needs time to understand the flow of folders and how to start mapping different assets.
QMetry users love QMetry's interface for its simplicity, fewer clicks for actions and intuitiveness. Consider this review on G2 for QMetry "Friendly, user-friendly interface, instant metrics and dashboards make it easy to do activities for projects with agile frameworks like Scrum. It allows me to create custom fields with which I can adjust the tool to the particular needs of the company"
Seamless and Easy integrations
QMetry supports 20+ ready-made integrations with

Project Management tools like Jira, Rally and Azure;
Automation Frameworks such as Selenium, TestNG, Cucumber, QMetry Automation Framework, Junit, PyTest, Robot, HP UFT, SpecFlow;
CI/CD Tools like Jenkins and Bamboo;
Source Code Repository like SVN, Git, Bitbucket;
Supports User Authentication with LDAP, SAML

Zephyr provides integration with tools like Jira, Jenkins, Selenium and Cucumber along with Open APIs
Are you planning to migrate from one tool to another? Download this free guide where we decode the problems that CxOs face while planning for or implementing migration.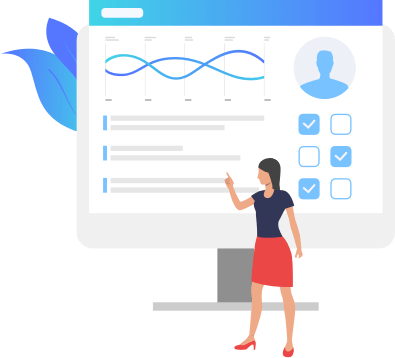 Zero or minimal learning curve
User onboarding is a key consideration for judging tool competence. Our team found that it is quite difficult for users to get started with Zephyr. The navigations as well as UI is not intuitive, making difficult for new users to learn. It is difficult to start using Zephyr without training or referring to the guide/user manual. Free trial installation is a complicated process that requires Docker installation. For a non-technical user, it is not easy to setup the trial of Zephyr Enterprise. It requires lot of pre-requisites, downloads, and setup steps for starting with Zephyr
QMetry is simple and very intuitive to use. Any new user or team can setup QMetry within minutes and start using QMetry efficiently in a span of hours. Along with online help, our product support team is always available for the new users/new team to help them navigate with all the basic configurations and setup. QMetry offers trial version in Cloud instance and users/organizations can easily start using QMetry immediately after signing up
Comprehensive reporting
Our Analysis Team did a research that observed that users are not satisfied with Zephyr Reports. There are reviews on G2 about Zephyr reporting. For instance, "Reporting is not as powerful as it should be given the overall powerfulness of the product itself. Traceability report is super thing but it's not easy to extract and use."
When it comes to System Reports, choices are quite limited with Zephyr users. Also, using gadgets is not that intuitive for configuring custom dashboard.
QMetry provides 140+ out of the box reports

System defined reports for the testers
Advanced reports

Visual Reports for users like BA, PM, to create any customized report based on Test Database of QMetry
SQL Query based reports for technical users to produce any report they want

Shareable Dashboard for management to view the project status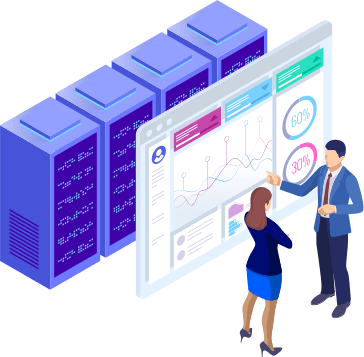 Features to compare
Features
QMetry
Zephyr Enterprise
Enterprise Grade Test Management
Test Data Parameterization
--
Support Versioning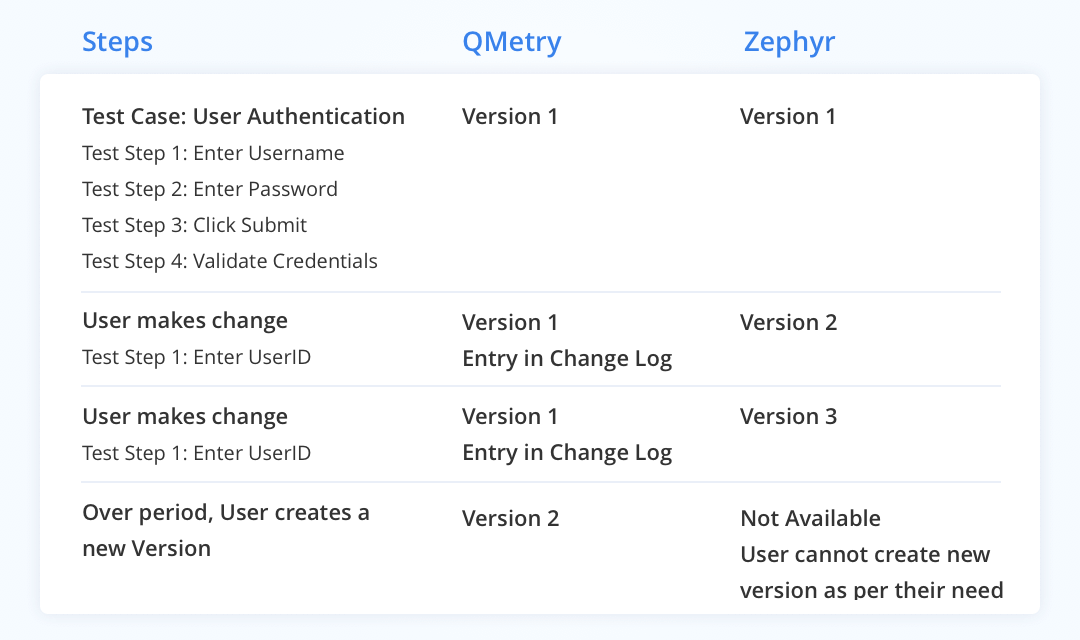 With QMetry, users need to explicitly "Create New Version" to create a new version. Additionally, all changes that are made by user/users are recorded under Audit and Change Logs for that version.
However, with Zephyr, users do not have the flexibility to create a new version when they like or on their own. Every time a change is made; the version number automatically increases. Hence, there is no bifurcation of Versions and Changes. Every change is a new version in Zephyr. This results in the creation of a lot of versions for each artifact. The problem with this model is it becomes very difficult for users to navigate between versions and all the changes.
Sync Requirements from Jira
Syncing of Jira fields is unidirectional i.e. from Jira to QMetry. Once the requirements are imported only the QMetry fields can be edited, the Jira fields will be Read Only. Whereas, with Zephyr the sync is bidirectional and hence, users can make changes to requirement in Zephyr and same will be reflected to Jira as well.
Considering security, this kind of setup is not secured. Based on industry best practice, various client feedback and Jira Analyst's recommendation, QMetry provides unidirectional sync for requirements and bidirectional sync for Defects module.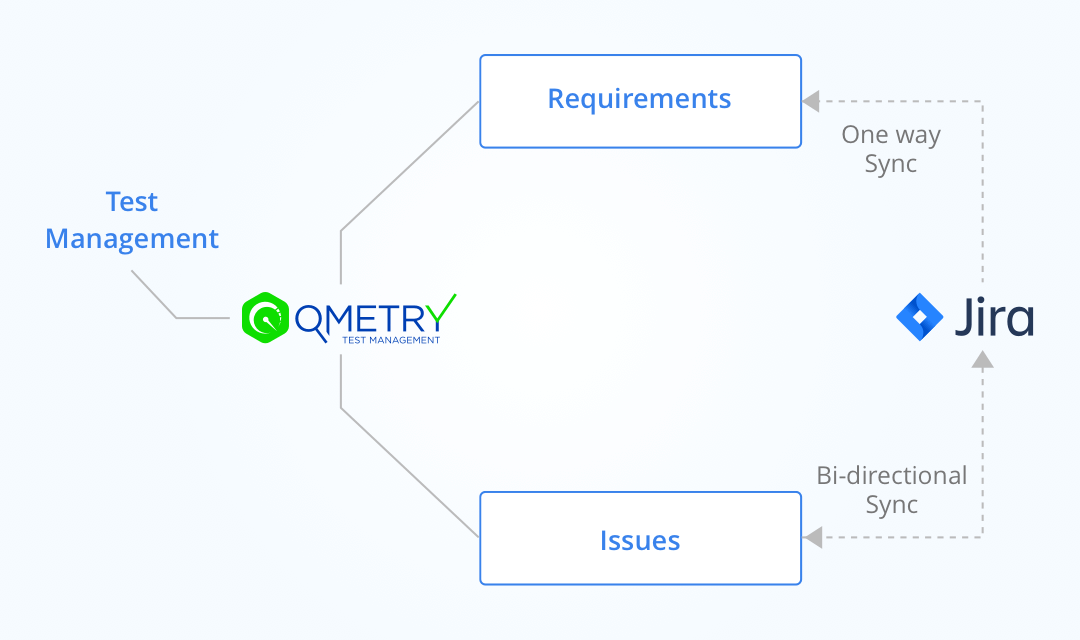 BDD Implementation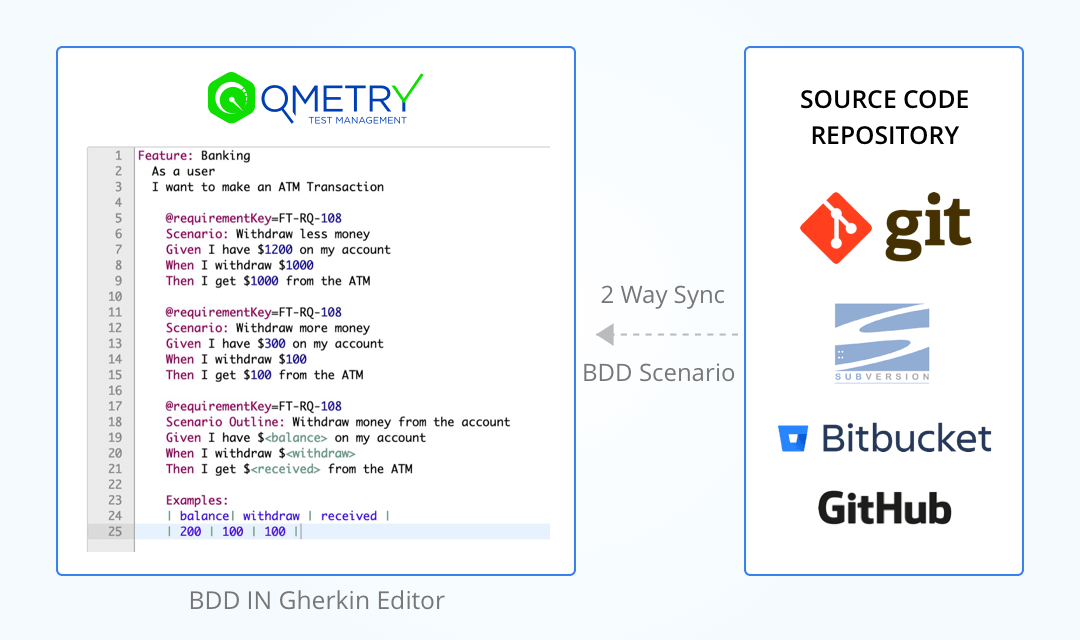 Enterprise teams practicing Behavior-Driven Development (BDD) can author, store and sync features files directly to/from Version Control Systems (VCS) like SVN, Git and Bitbucket, using the built-in Gherkin editor in QMetry requirements. The two-way syncing between QMetry & VCS keep developers, testers and product owners up to date with the latest source code change commits with automated step definitions. Using QMetry automation agents, test executions could be triggered directly from QMetry. Test cases are smartly created/reused authored based on the feature step definitions and link them to requirements. Test Suite stores the automation execution results ensuring complete feature traceability with requirements.
Zephyr doesn't provide BDD implementation within Requirement Module.
Benefits of using QMetry
End to end Requirements Management, Test Case Management and Issues Management
Achieve Shift Left with Test Automation
Scalable, Secure and Flexible – Designed for Agile Teams
Seamless Integrations in CI/CD Pipeline
Comprehensive Actionable Insights with Quality Analytics
* All logos/trademarks/product names used in this document belongs to their respective owner. Information represented here is based on the general information available on the internet and public sources. Comparison is based on feature set available upto October '20.
Worried about the Migration process? We've got you covered
Many clients considering a migration from Zephyr Enterprise to QMetry Test Management often stay put because it is a tough call to make. Will the migration retain the integrity of their assets? What will be the benefits of such a migration?
However, we have made the decision easier for those considering a switch.
We have a proven migration process and an easy to use migration utility that enables clients to make the switch easily and quickly.
Our migration support team ensures the integrity of your data and assets and helps you through the entire process to ensure a flawless transition.
Download Factsheet