As the world is practising social distancing and new pathways of working, we at QMetry too have fully embraced our responsibility to keep our workplaces safer and healthier. This means, a majority of us are now working from home. But the show must go on… Right? So here I am, Rupal – Product Specialist at QMetry with a new episode of QMetry Quality Boards even though from my own home… This session will highlight what is eSignature and how does eSignature work in QMetry.
QMetry offers Approval workflow and auditing reports with eSignature to produce evidences that can be used for SOW and other Audit compliance. The eSignature feature helps organizations to regulate the Approval Workflow of test cases and test executions. Test Case executions can now be approved using an eSignature that verifies that the test execution was documented correctly and authenticates the test execution status assigned to the Test Case.
So, to give you all the brief about this solution, starting with the user stories, Requirement management module is not affected by eSignature feature. Which means that Business Analyst writing the user stories will continue with their tasks without waiting for the approval. They can keep on creating and updating the stories in Jira which will get synced in QMetry' Requirement Management Module.
However, as part of eSignature and Dual Authentication compliance, authored test cases will go in the approval cycle before they can be linked with the test suites for capturing the execution.
Same is the case with the created test suite. Test suites need to be approved before testers can perform the execution. And once the test suite is approved, tester can then log the execution.
How does eSignature work?
To help QA teams align all their efforts to construct quality test cases, QMetry empowers the management to keep a check on the changes to a test case and how it can be integrated into test executions.
Step 1: Decide the project for eSignature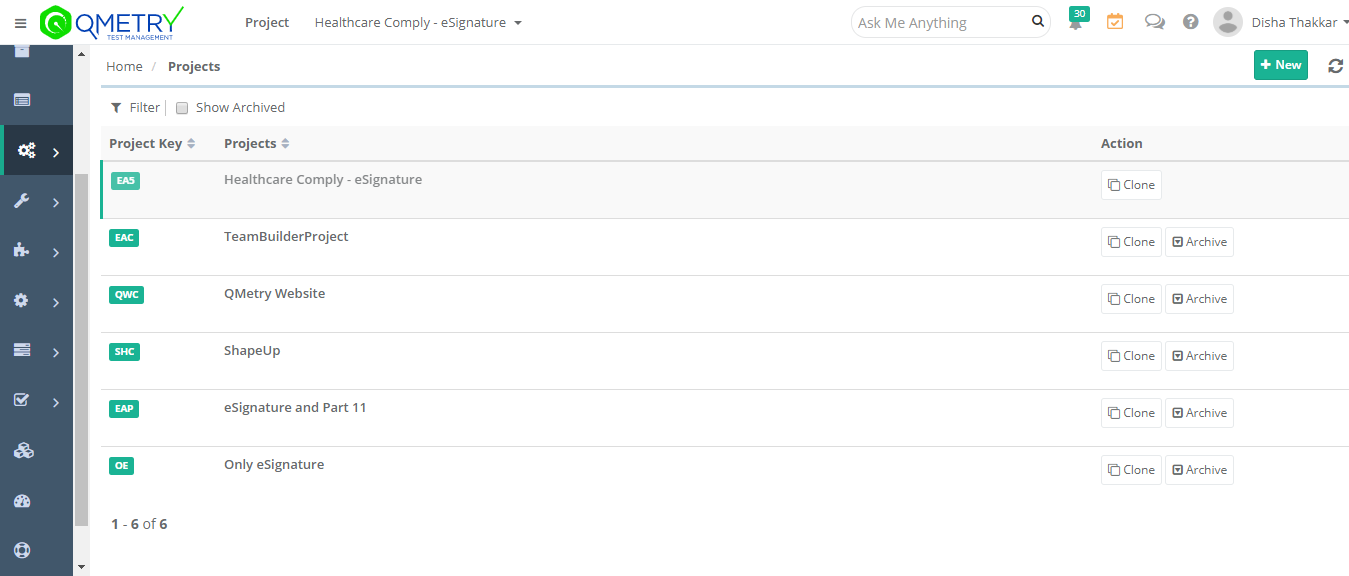 First, companies must review and select all the projects for which they want to enable eSignature functionality. It's possible that there are a few projects that are stipulated under the compliance and governance norms, which makes it imperative to enable eSignature. However, there could be another team working on project that doesn't require this approval mechanism.
So the Project Admin will enable eSignature feature for the needed project and after this Admin can then enable Part 11 Compliance Flag.
Step 2: Add Approvers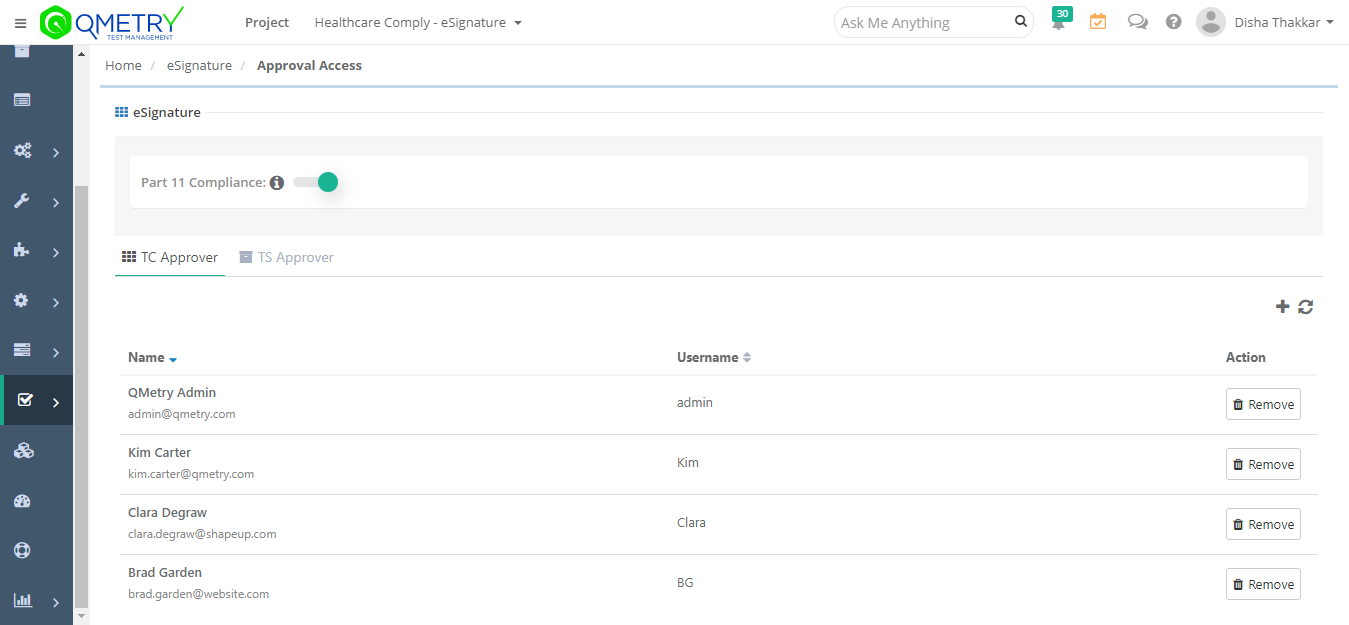 Once, your project has eSignature and Part 11 enabled, Project Admin must add users who will be approvers. There are two types of approvers:
Test Case Approvers: They will have rights to approve the test cases that are authored.
Test Suite Approvers: They will have rights to approve created test suites and also approve the executions captured for these test suites.
Here I will add "Kim" and "Brad" as Test Case Approvers. Same way for Test Suite Approvers, I will add "Kim" and "Brad".
Step 3: Test Case Authoring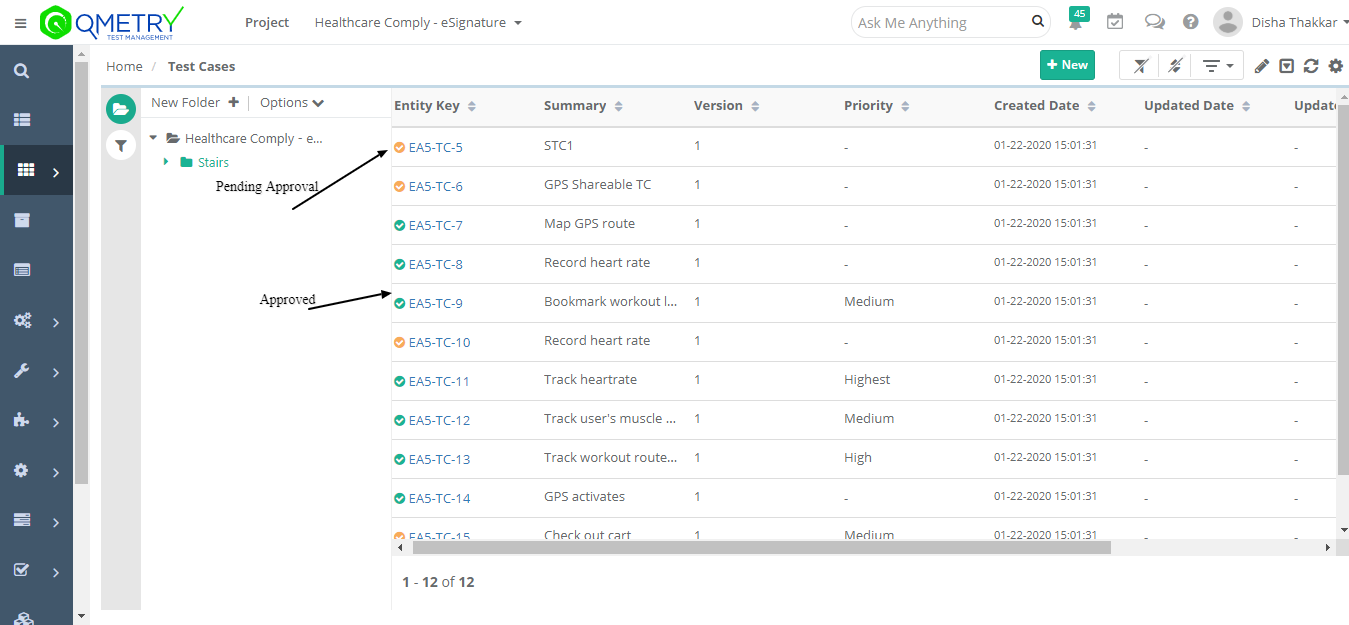 Testers will start authoring test cases and once they are submitted, these will be sent to the approver for approval.
What is "Locked-in Phase"?
The test case that has been submitted for approval and has not yet been approved enters locked-in phase. Meaning, testers cannot link such unapproved test cases with test suite and hence, they cannot be executed. However, they can keep on editing these test cases until they are approved by the designated approver.
Approval Flow
Approvers will be able to view these test cases and approve them. To comply with Dual Authentication, QMetry will ask the approver to reauthenticate by entering their login credentials for approving.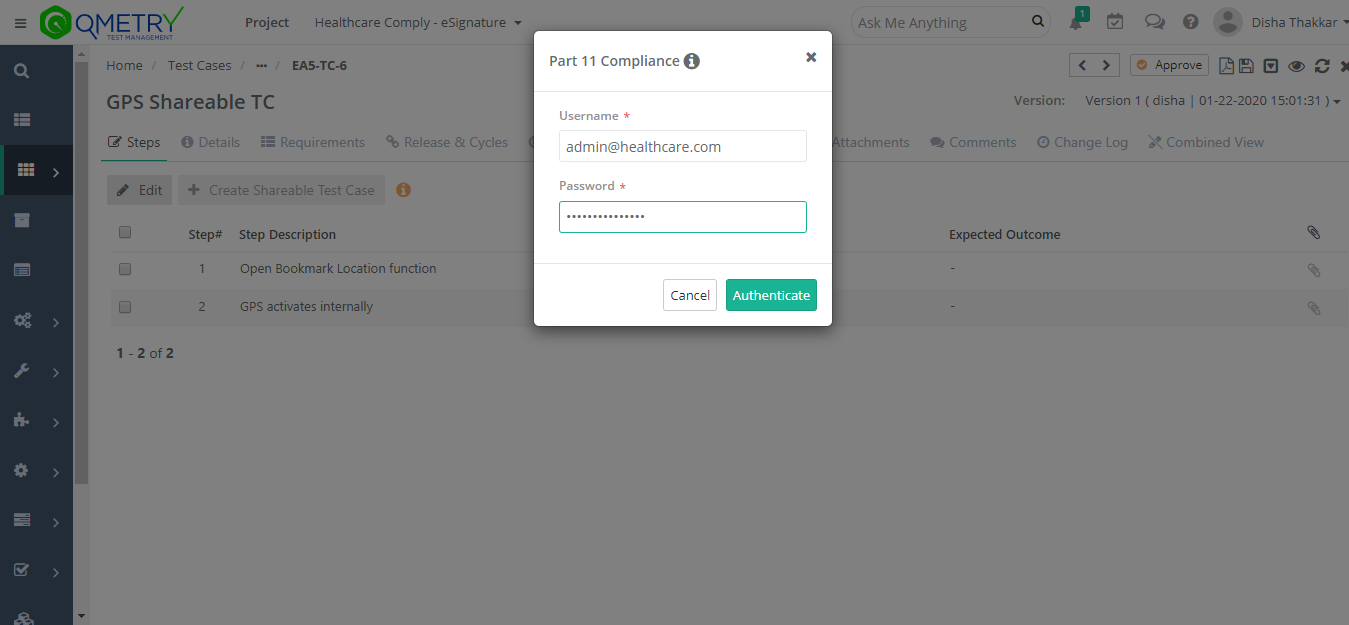 Once correct credentials are entered, test cases will be approved and can no longer be edited. If someone needs to edit them, they will have to create another version of the test cases.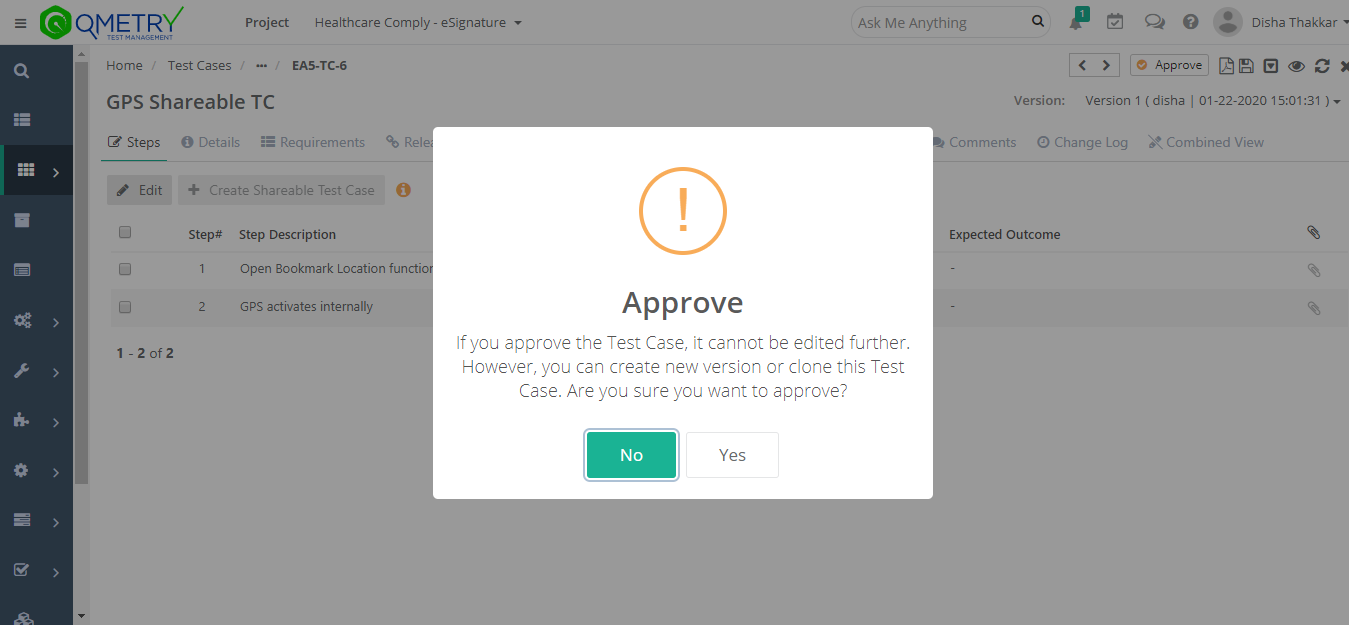 Step 4: Test Suites and Test Executions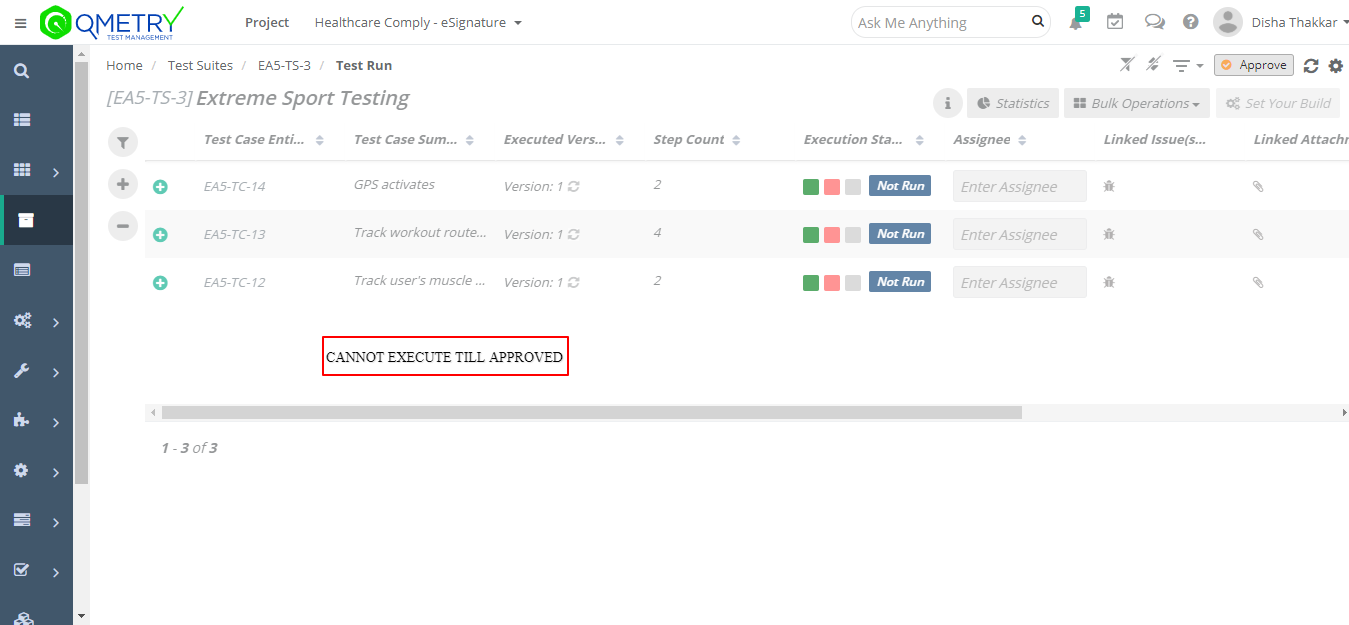 Testers will create test suites and link the approved test cases for their execution. However, test cases cannot be executed until the test suite is approved. Again, the created test suite enters the "Locked-in Phase" until they are approved by their designated approver.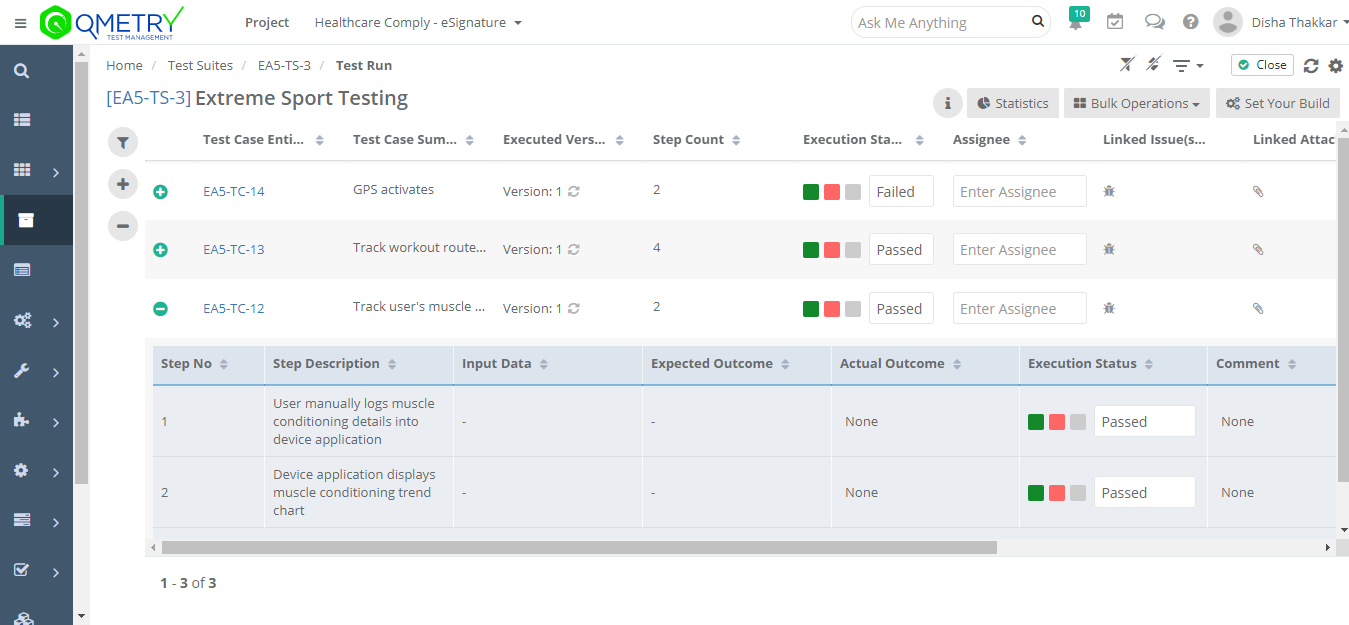 On the other hand, to approve these test suites, the approver will have to enter their credentials to comply with Dual Authentication. Once the test suite is approved, testers can execute the test cases and log the test results. And these execution results will again go in "Locked-in Phase" until they are approved.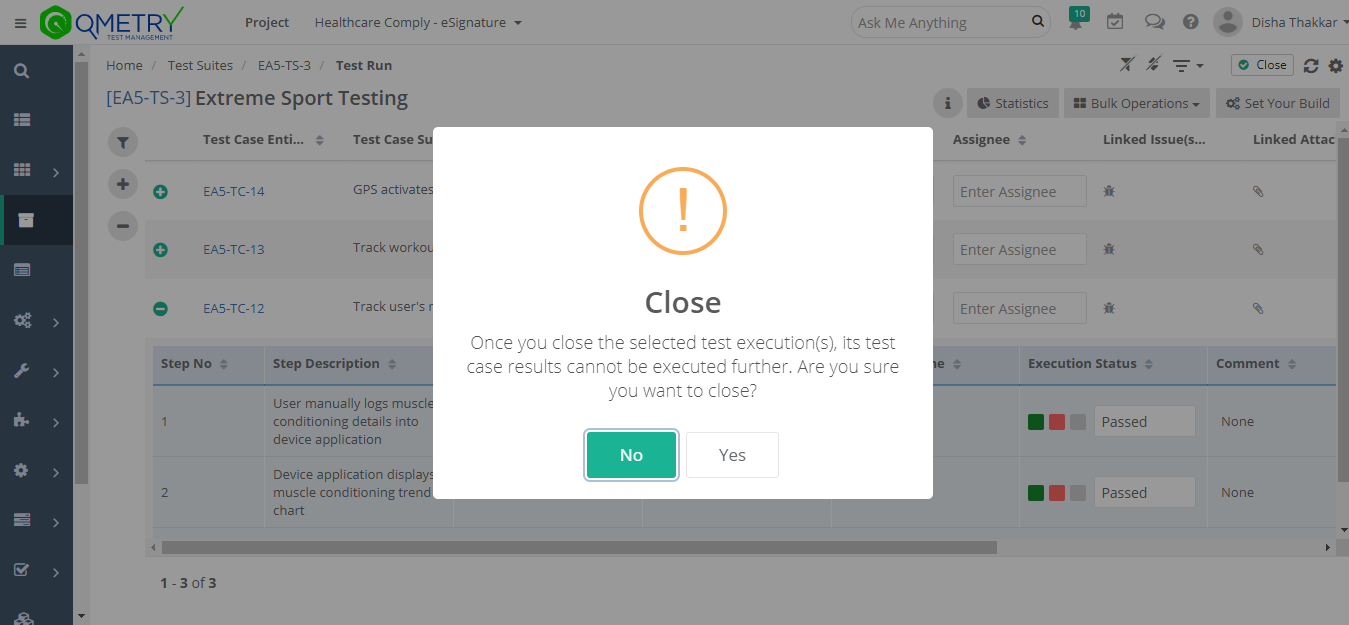 To complete the whole cycle, Test Suite approvers will have to "CLOSE" the test suite. This will be considered as the final approval in this testing workflow.
Step 5: Approval Workflow Report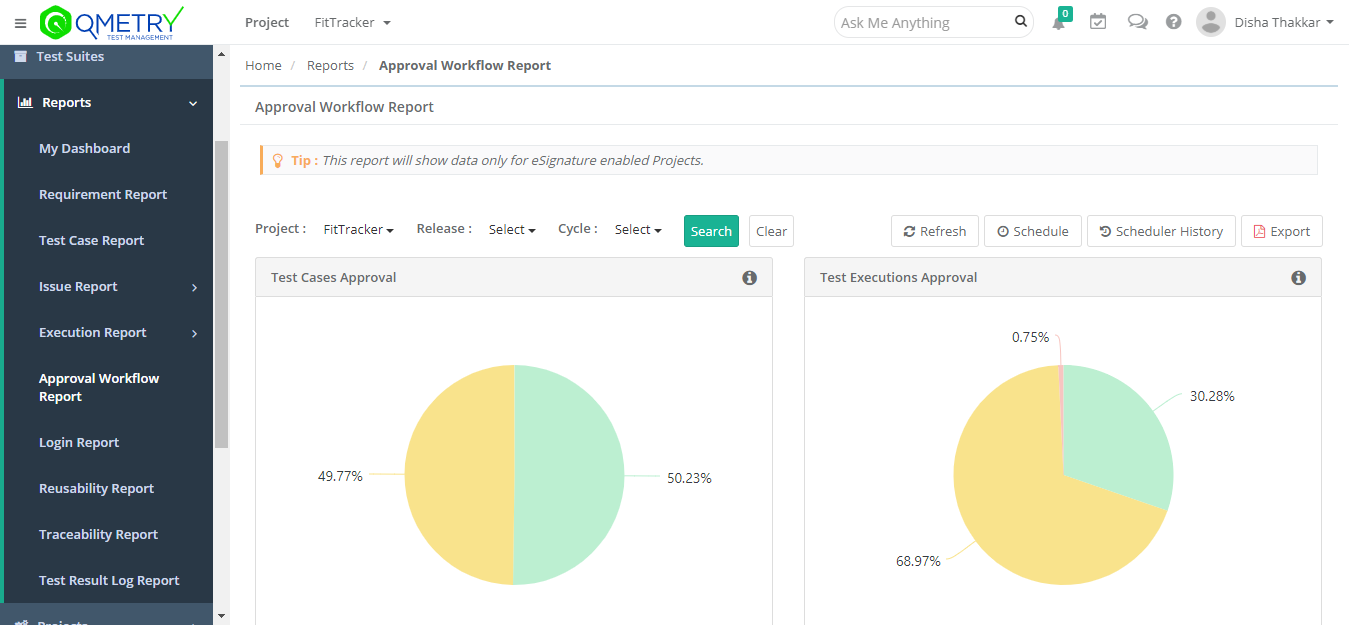 Approval Workflow report summarizes details on Test case approval & Test Execution approval based on Project, Release and Cycles. QA managers/Project Auditors use this report for audit reasons wherein they can find out which test cases/test suite/executions are in "In Review" state and which are in "Approved" state. In addition, this report provides the audit details of the approval workflow which includes test case details, approved test case version, who approved this test case, when was it approved, etc.
What are the benefits of eSignature with QMetry
Reauthentication to comply with Dual Authentication
Reduced risk and quicker implementation due to automated compliance workflows
Save time by avoiding manual intervention in approval process
Real time access of all the testing records and artefacts at any time
Increase in efficiency leading to improved productivity of testers
Cost effective solution as QMetry Compliance supported features eliminate paperwork and cumbersome regulatory processes
I hope you liked this session on eSignature and found this insightful. If you have any query, feel free to reach us out at info@qmetry.com or sign up for free trial of QMetry.