Legacy ALM Migration with QMetry Test Management
In recent years, there is an evident shift from the traditional, enterprise IT operating model to lean IT which is agile and outcome-oriented. QMetry is a modern, DevOps-ready test management tool that is light, user-friendly, and designed for the scalability and speed challenges of today's digital experiences.
Common Challenges of Legacy ALM Tools
Some common challenges that enterprises face with legacy ALM tools include:
Not flexible enough for Agile adoption
Lacks ease of use
Clunky data and missing insightful reporting
High maintenance and licensing costs
Lacks scalability
Slow to adapt to market demands
Modern and Light-weight QMetry Test Management
Enable Continuous Testing for your Agile Teams with QMetry
Agile & DevOps Ready
1000+ Customers across Globe
140+ Reports
20+ ready-made integrations
150+ Open APIs
Listen to Podcast "Achieve Speed + Quality" where we talk about migration and their challenges.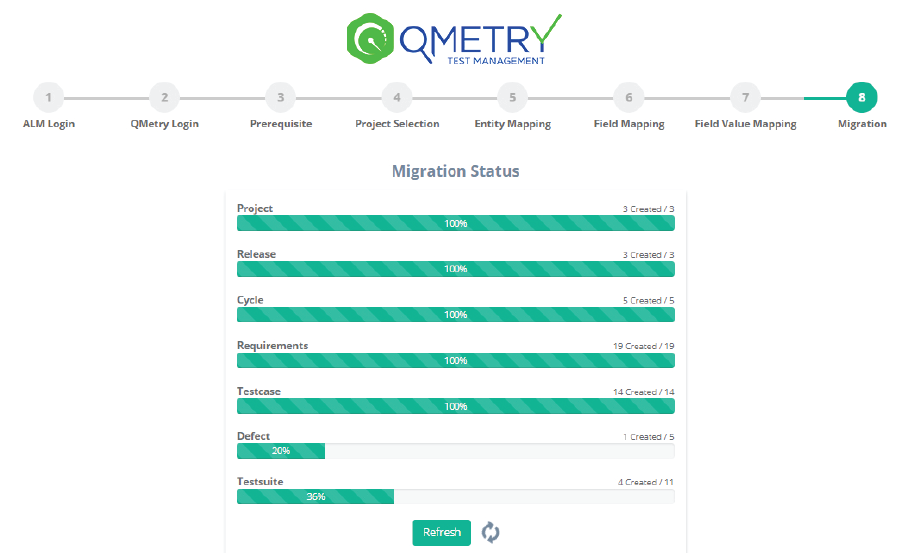 Benefits of QMetry Migration Services
If your legacy system can't support your business needs and it is not evolving then it must retire
Proven migration experience for Enterprise Clients
Ready-made Migration utility for moving from HP QC to QTM
Dedicated Support Team for migration
Free Migration Consultation
Migrate project customization like custom fields, workflows, sprints etc.
Download factsheet to know our "Migration Approach".
Customer Testimonials
Migration from HP ALM to QMetry
QMetry is a cost-effective tool which you can rely on for test management. They've provided excellent customer support and have very knowledgeable product specialists. We can confidently say QMetry was the best pick we made to round out our automation test suite.
Technology Solutions Consultant
Grange Insurance
Migration from HP QC to QMetry
There were about 7-8 tools that we evaluated on a very rigorous basis. We had probably 20 criteria that the tool needed to meet. Some were required, some were nice to have. QMetry ended up being the one that passed all our required objectives and also some nice-to-haves.
JANICE ANDERSON - Corporate Tooling and Technology Product Owner
Kingland Systems
Migration from HipTest to QMetry
We evaluated about 15-17 tools but QMetry soon became the obvious choice because of its ability to manage cross functional projects and complex business needs. Many test management tools are difficult to use and cause more problems than they solve. With QMetry we found the freedom and flexibility to adapt it to our existing test management process and build our automation framework, thanks to its integration capabilities. We have improved the efficiency of our SQA team and streamlined our test management process.
Head of QA
Scandinavian multinational home appliance manufacturer
* All logos/trademarks/product names used in this document belongs to their respective owner. Information represented here is based on the general information available on the internet and public sources.