Speed up Digital Transformation with QMetry's Integration Capabilities
Provide scalability and flexibility to agile teams by ensuring seamless integration with other tools
Jira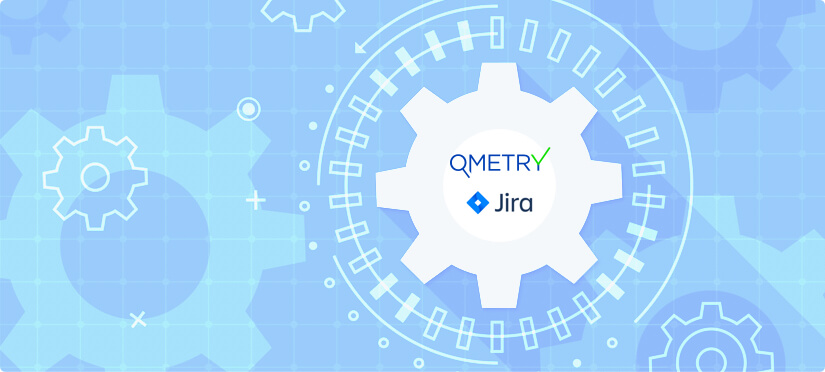 Simple 2 step Configuration and QMetry will enable the necessary communication with Jira

Requirements Management
Real-time synchronization of user stories between Jira and QMetry
One-way communication of user stories from Jira to QMetry
Write BDD in Jira/QMetry and sync BDD from Jira to QMetry
Enable BDD with Gherkin editor in QMetry
Enhanced filters to allow searching requirements based on Jira fields.
Click here to know more about QMetry's feature on Integration with Jira.
Defects Management
Log issues in Jira against test cases and test suites from QMetry
Real-time bi-directional synchronisation of issues between Jira & QMetry
Rally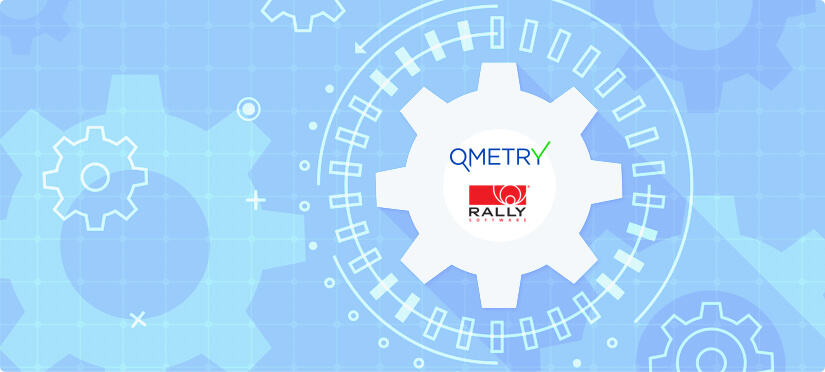 QMetry supports seamless integration with Rally which is used by Enterprises for Agile Project Development and Management.
QMetry – Rally integration allows testers to sync Requirements in form of user stories as well as defects. This integration seamlessly links both systems and allows testers –
Unidirectional communication from Rally to QMetry for Requirements – User Stories
Bi-directional synchronization between Rally and QMetry for Defect Management
Check the Integration synchronization scheduler status
Integration synchronization history
Choose the fields that is necessary for the sync
Benefits of this integration
Apart from Jira, QMetry provides support for yet another project management tool i.e. Rally.
This is a ready-made integration within QMetry. Hence, teams using Rally can instantly start using QMetry as their test management solution.
Currently there are not many test management tools that offer readily available integration with Rally. Hence, total cost ownership (TCO) increases for the current users/teams who are using Rally.
QMetry – Rally integration empowers Rally users with the most comprehensive reporting module of QMetry which provides around 140 reports.
Integrate with Azure DevOps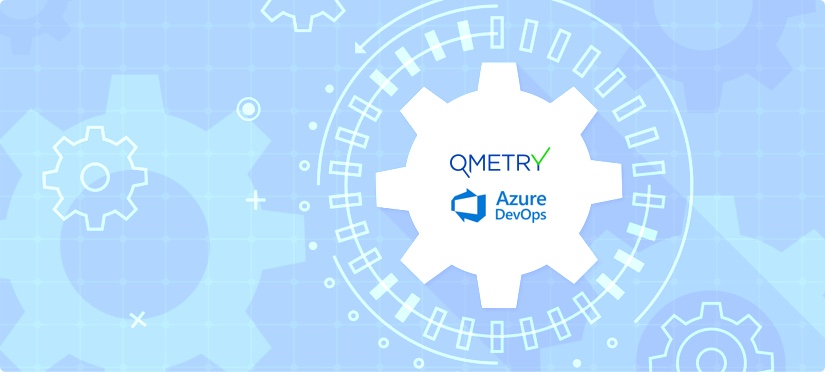 QMetry's Azure DevOps integration enables testing teams to operate seamlessly in Azure DevOps pipelines with Increased agility and better collaboration.
QMetry – Azure DevOps integration enables organizations to plan, execute and track testing activities and get end-to-end traceability with Azure. Highlights of this integration are –
Unidirectional communication from Azure to QMetry for Requirements – User Stories
Bi-directional synchronization between Azure and QMetry for Defect Management
Multiple Azure projects/instances/organizations can be linked with one or multiple QMetry projects
Traceability report for Azure DevOps user stories and logged defects
Support for Azure SSO authentication
Sync custom fields from Azure to QMetry for Requirement (New Feature, EPIC, Story) and Bugs.
Benefits
Enable your testing teams to adapt to DevOps culture with Azure DevOps integration
Direct integration with no plug-ins. Simple to implement. Seamless collaboration between development and testing teams within a single platform
Get end-to-end traceability with Azure user stories
Effective two-way visibility of requirements, issues, and defects across QMetry and Azure DevOps
DevOps Tools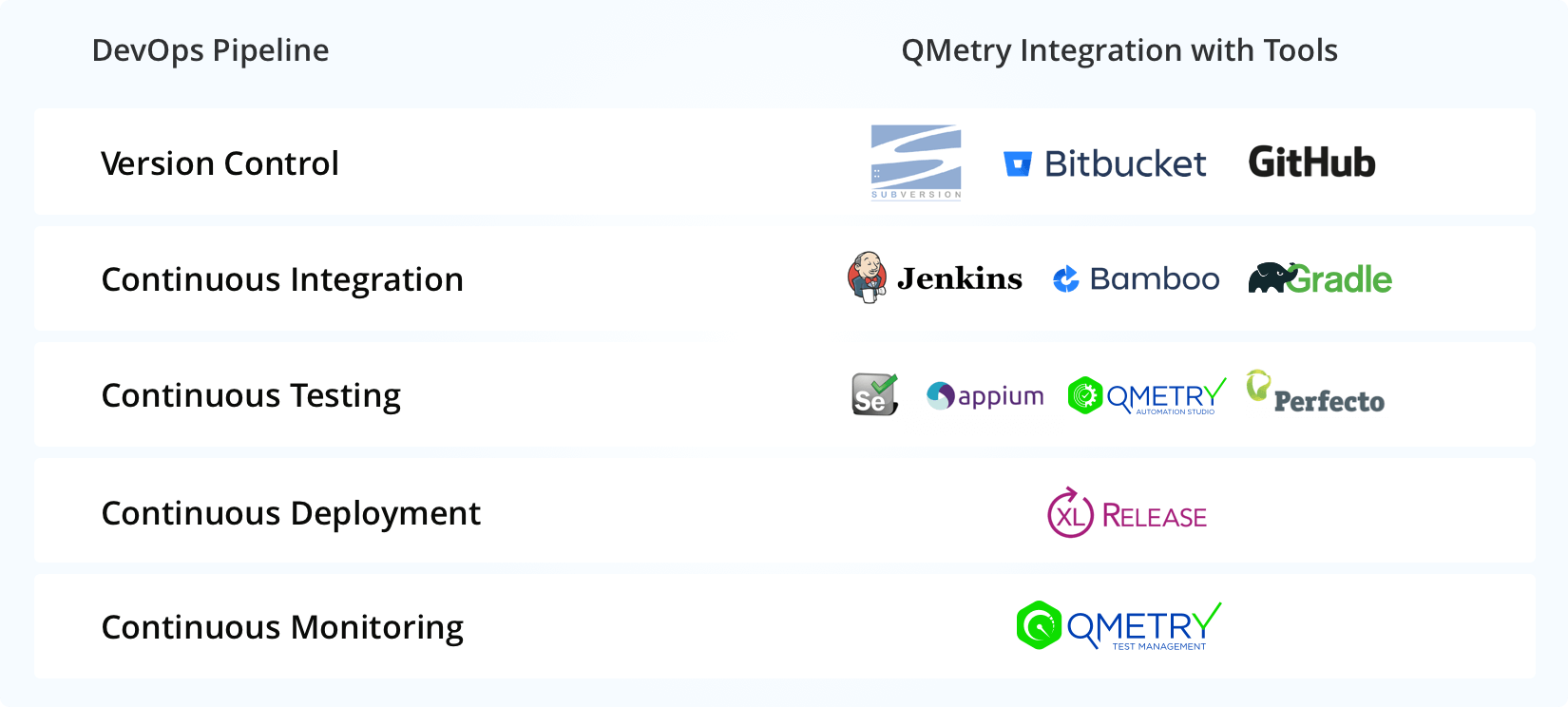 Sync with Version Control System
Write BDD in QMetry using Gherkin editor
Sync with version control systems such as SVN, GitHub, Gitlab, Bitbucket
Integrate with CI/CD Tools
QMetry easily integrates with CI/CD tools such as Jenkins and Bamboo and that's how QMetry becomes an integral part of CI/CD pipeline orchestration
Import automated test execution results from Jenkins, Bamboo to QMetry
To know more in detail about how an organization can implement Continuous Testing, read the whitepaper on "The need for Continuous Testing in the DevOps era".
Build Tools such as Maven, Gradle
QMetry Test Management offers seamless integration with build tools such as Maven and Gradle in the form of a plugin
The respective plugins upload result files generated in a Maven or Gradle project to QMetry
This arrangement ensures flexibility required in the CI/CD pipeline between different tools with QMetry being the centralized repository for all your test results
Automation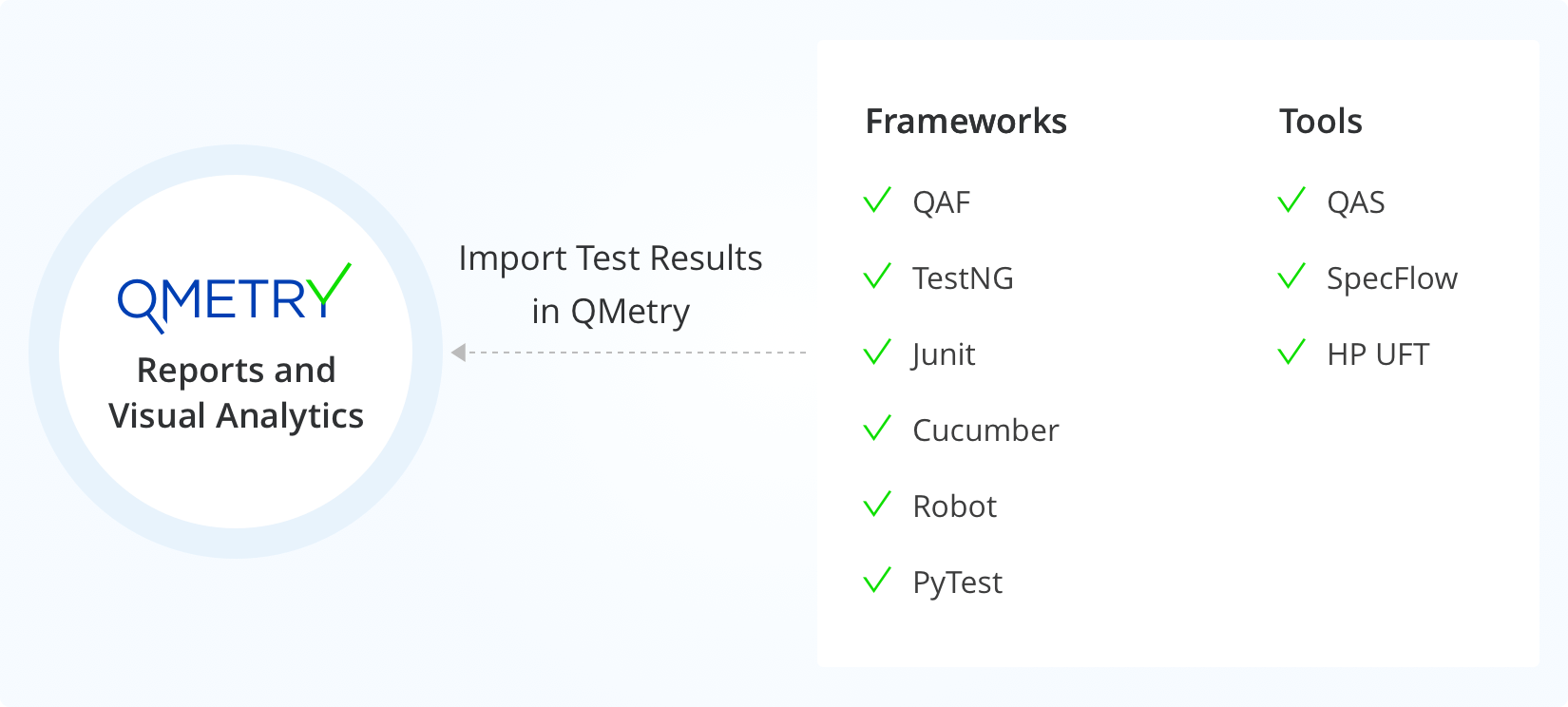 For the teams to follow the Shift Left approach, it is very important to start testing early and be ready with the automated tests
Test automation scripts developed for unit tests, API tests, Integration tests, component tests, etc are triggered to run automatically from CI/CD tool
QMetry enables BDD and in-sprint automation by supporting integration with the automation frameworks and CI/CD tools
This empowers agile teams by automatically capturing the automated test results in QMetry and displaying the results in form of QMetry dashboard and reports for analysis and quick feedback
This is done by supporting the most commonly used automation frameworks such as Selenium, Cucumber, TestNG, QAF, JUnit, HP UFT, Robot, PyTest
Open APIs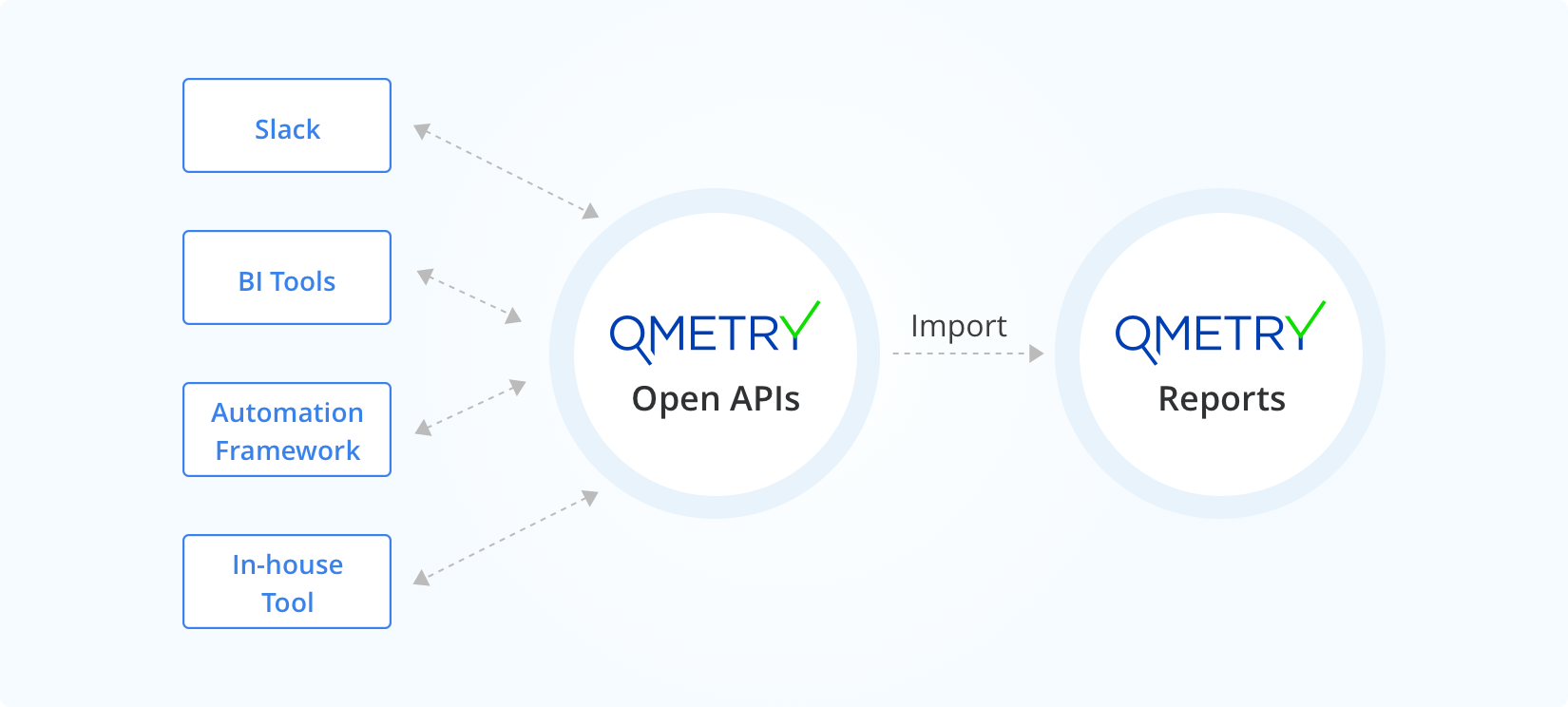 Exhaustive and Extensive list containing 150+ Open APIs with highly Secured Token
APIs covering Requirement, Test Cases, Test Suites, Issues, Data Parameterization, Automation, Configuration, etc.
QMetry provides the best in class Apiary Powered documentation to help you with an easy and simple way to incorporate APIs as well as export the API code in 14 languages such as Java, Python, Ruby, cURL, Node.js, etc. See our API Documentation.
What will API help you to do?
Perform any task from requirement - test case management – executions - reporting programmatically.
Integrate QMetry Test Repository with any other tool, platform or in-house developed system.
Combine APIs to help form the migration utility to migrate data from legacy tools.
Import test results from Automation Tools/Frameworks.
Leverage test results of QMetry to synchronize with other systems.
Authentication
QMetry supports LDAP and SAML for user authentication using already existing user credentials.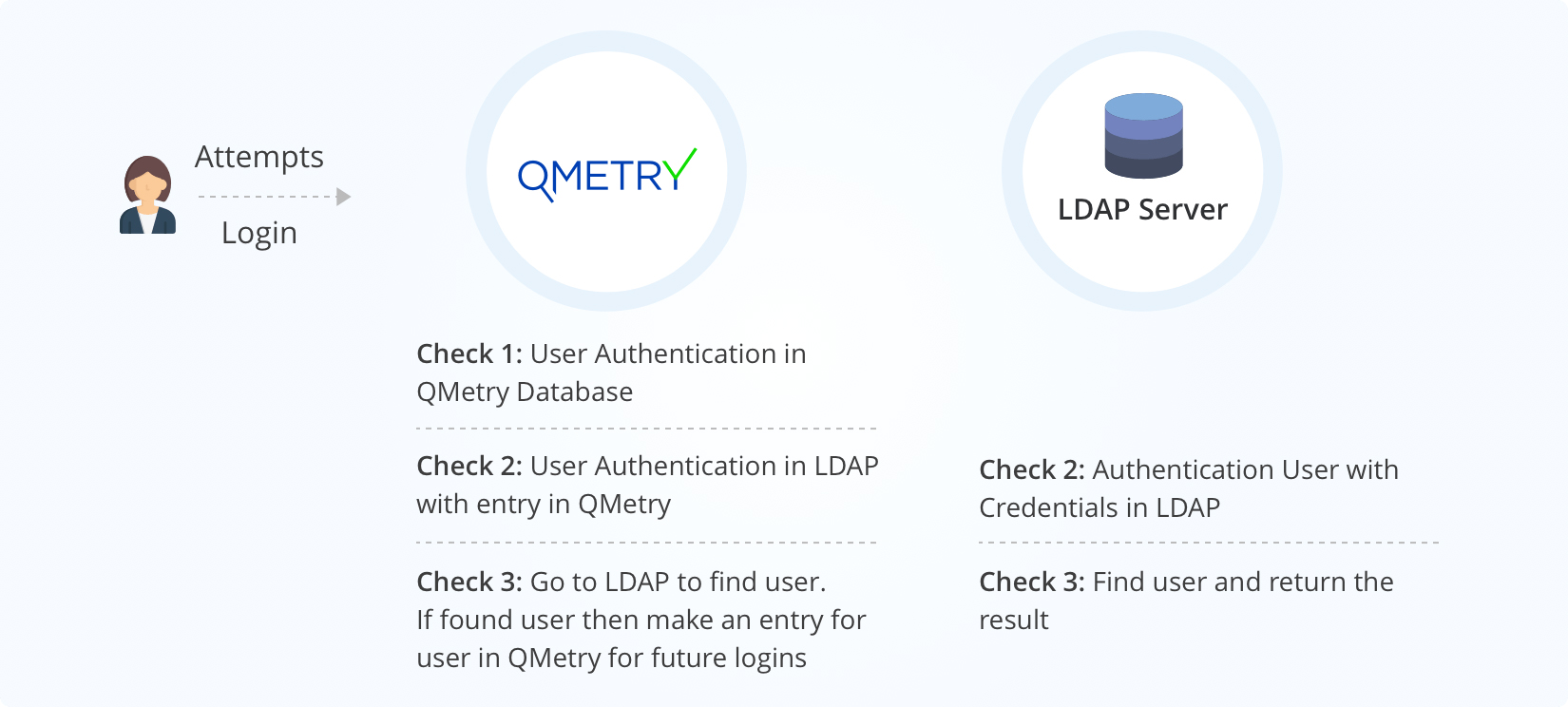 Through QMetry
Users with QMetry authentication type can enable Two-step Verification as an extra layer of security during login.
Through LDAP
If an organization has LDAP server configured, then QMetry supports LDAP integration to import such users into QMetry application.
Hence, at any moment, user authentication from LDAP/Active Directory as well as from QMetry database is provided.
Through SAML
QMetry Admin can integrate SAML for authentication to allow QMetry Users to login using single sign-on.
QMetry supports Okta, Ping Identity, Oracle Access Manager as an SAML provider.