Application testing has evolved from a standalone activity at the end of the development lifecycle to an automated, continuous quality engineering function embedded throughout the process.
Organizations have been able to reduce costs while enhancing quality and speed-to-market because of rapid improvements in intelligent automation, quality analytics, and development methodologies.
Along with manual testing, companies are now adopting shift left testing, thus promoting test automation. This helps in faster and frequent testing, ensuring high quality along with speedy releases. This test automation evolution is being driven by five primary trends:
Monitoring and integration powered by AI in real time: Evolve from issue-based resolution to real-time monitoring and technology stack integration.
Self-healing: Use artificial intelligence to detect when a function has altered. The test can then update itself to stay relevant and avoid failing during execution.
Applied analytics: Use applied analytics to move from "test data" to "test insights." This enables businesses to keep up with the exponential expansion of data volume and variety.
Next-generation DevOps: Move beyond function or script-driven techniques to autonomous frameworks that bring together developers, customers, and end-users in next-generation DevOps.
Borderless organization: Build interconnected virtual teams of industry, business, and technology professionals unified around a single corporate goal to create a borderless organization.
What is Self-healing Test Automation?
Traditional test automation frameworks and tools use application models to define application components and objects and their attributes. The application components are then identified and operated on using these definitions. The components of an application frequently change when it is updated. This can happen on purpose (by a developer) or on the fly (by a user) (by the application system or build process). These changes break traditional automation based on static definitions.
Intelligent technologies like natural language processing and machine learning (ML) have progressed to the point where test scripts may now "learn" and adapt. Self-healing test automation tools use AI and machine learning techniques to automatically update and adjust testing to changes in the user interface (UI) or environment of an application.
When running tests, they scan the application's user interface to see if any objects are present. Then they compare them to the application model generated for the automated testing previously. If there are any changes to the application, there is technology that allows tests to adapt and automatically update. This capability is known as 'self-healing'. Property changes are auto sensed, and internal scripts are self-healed during runtime via self-healing.
The Self-healing feature covers the following use cases:
During execution, if a test step locator is failed to be detected by its default locator value, the other locator strategies in the list will be automatically applied without any manual intervention from the tester. The execution will continue as if no failures has happened.
During execution, if a test step locator is failed and cannot be auto detected using any of the other locator strategies, automation studio will pause the execution, allow user to select the relevant element and continue the execution. The new locator strategy will be auto updated for the next execution.
Modern test automation tools such as QMetry Automation Studio (QAS) has embedded this self-healing capability. Once test objects in test cases are created by the recording feature in QAS, a set of Elements will be generated. These different set of elements are identified as strategies.
Benefits of Self-Healing Automation
Self-healing is required for a successful test automation maintenance process.
A well-planned and executed maintenance process relieves Testing teams of tedious exercises and seemingly endless test script changes, laying the groundwork for Test automation to reach its full potential.
The mechanism also contributes to the following benefits.
1. Decreased Test Failures
Your tests may fail, which is no surprise to any tester; but sometimes the core reason of failures is merely that the user interface has changed while the test has not. When self-healing is enabled, tests are less likely to fail owing to an inability to recognize the correct object location, disturbing the project's flow. Traditional automation frameworks are not capable of identifying these changes and auto-update.
2. Prevent Test flakiness
Testing teams find it difficult to determine whether or not their tests are stable when they have flaky tests.
The error "Nosuchelementexception" is one of several that cause flakiness in the Test design, which Testing teams have little control over.
Tests are less likely to fail during execution when the Test design is up to date with the application, and execution flows more seamlessly as well.
3. Test Maintenance – Save time and effort of maintaining test scripts for teams
Changes in the test code are proportional to the changes made in the application by the developer. Since the fundamental reasons can change and do not reflect the real status and performance of the AUT, failed test results restrict testers from receiving meaningful insights about their tests.
Another key component of testing is anticipating user behaviour and developing a solution that can handle the unexpected.
By recognizing and updating test cases for any change made in the user interface, the self-healing technology saves Agile Testing and development teams time and effort.
Along with time and effort, self-healing in test automation significantly reduces test maintenance costs too.
Self-healing with QMetry Automation Studio (QAS)
With QMetry Automation Studio (QAS), self-healing can evaluate test status, identify problems, analyse, and automatically suggest a solution to cure the broken test. All that is left for our users to do is either approve or deal with the suggested fixes.
Testing becomes totally automated with Self-healing enabled, as one would expect from cutting-edge automation technologies. QMetry users can have fewer worries for each time they run test cases in batch overnight.
Our vision is to offer our customers a test automation solution that is both future-proof and has a proven return on investment. To identify consumer pain points, our experts researched and assessed various available test automation tools on the market. The following are some of our significant observations:
Companies embarking on a digital transformation journey require DevOps and Agile-ready solutions.
A DevOps methodology based on agile project delivery necessitates frequent and rapid changes at all levels.
When the developed code undergoes frequent modifications daily, it becomes difficult for interdependent tools to support each other. For example, if the development team is constantly adding or changing existing interfaces. Then the current automation scripts are no longer capable of supporting you. This demands rapid adaptation of the test cases and scripts you've already written.
These challenges require an approach of self-diagnosis and self-testing of objects.
Focusing on the right things to automate
Tests that should and should not be automated takes a great deal of thought and effort. UI automation is undoubtedly one of the most difficult implementations of test automation. Tests also need to be updated on a regular basis, which involves ongoing maintenance.
Additionally, as new functions and features are introduced to the System Under Test over time, automation scripts for each of these must be written, reviewed, and maintained. To improve the effectiveness of such Automation Scripts, maintenance is required.
For the functions and features that are least likely to change, test automation is an excellent choice.
The disadvantage is that scripts written for a stable code base are not examined. When the underlying code function is revised, this causes unforeseen issues. It alters the behaviour of a feature that has been tested. It also leads to a new issue; the code has changed, but the script hasn't, resulting in false positives.
The error flags organize the results review and need regular and additional monitoring to guarantee that the errors are indeed caused by fake tests. When this happens repeatedly, the entire test automation process is thrown out of sync. Management will begin to doubt the viability of test automation if it is perceived as an expensive and redundant activity.
What teams require is a strong system locator strategy. The automation suite's maintenance efforts will be significantly reduced as a result. The largest number of tests that fail intermittently are caused by fragile locators.
How Self-healing works in QMetry Automation Studio (QAS)?
To explain object Self-healing in QAS, we will take a simple use case.
1. We take an example where there is an online Banking Website that allows user to debit and credit amount from their account. As a first step, user named Bob, will login to this bank application.
2. User wants to withdraw $100 from his account. So, the user who is Bob will enter amount for debit in the Debit Field. After entering amount, Bob will click on "Debit" button.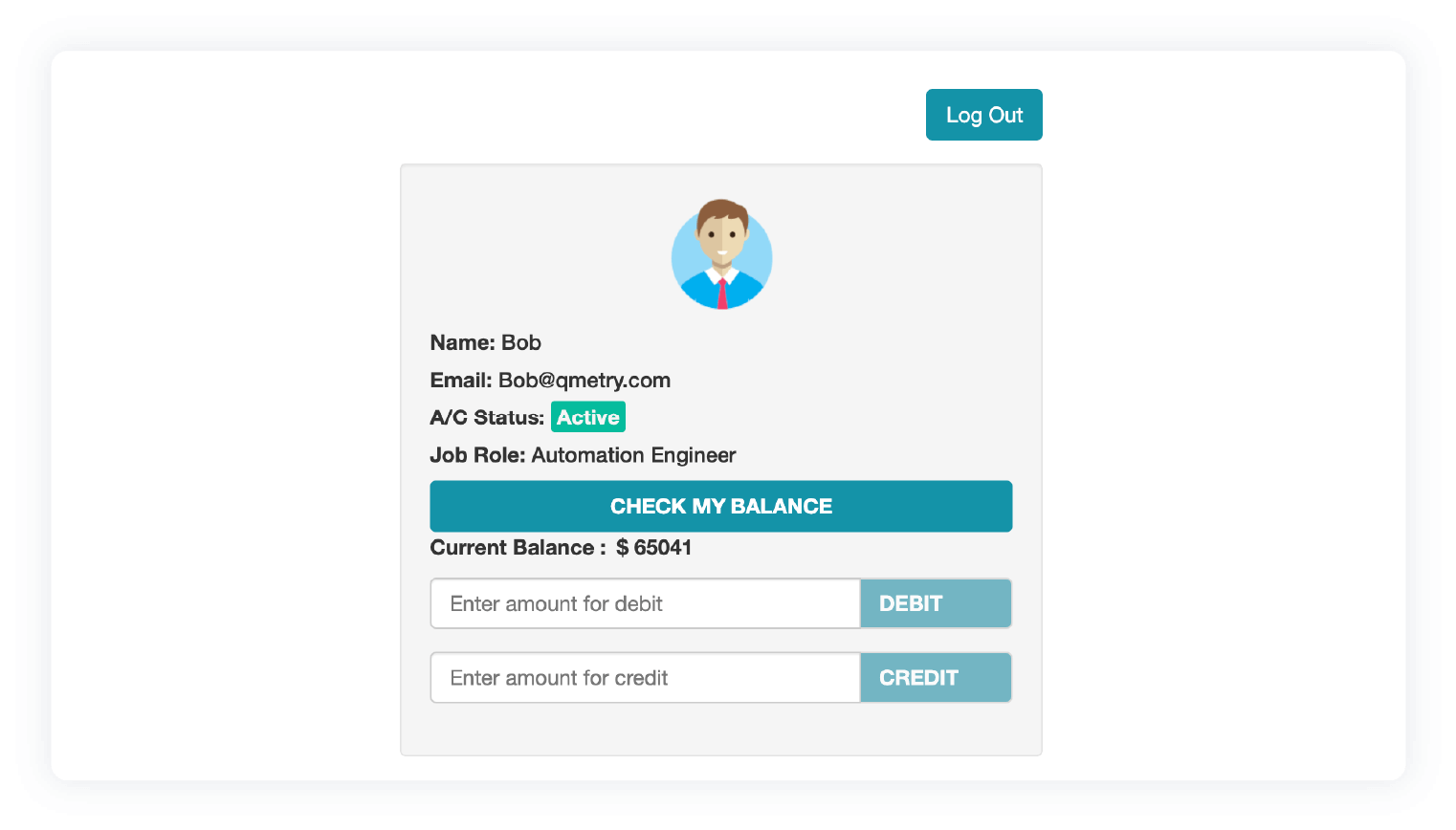 3. Now, using QAS, you have scripted the above test case for it to work as automated script. And your test execution within QAS is successful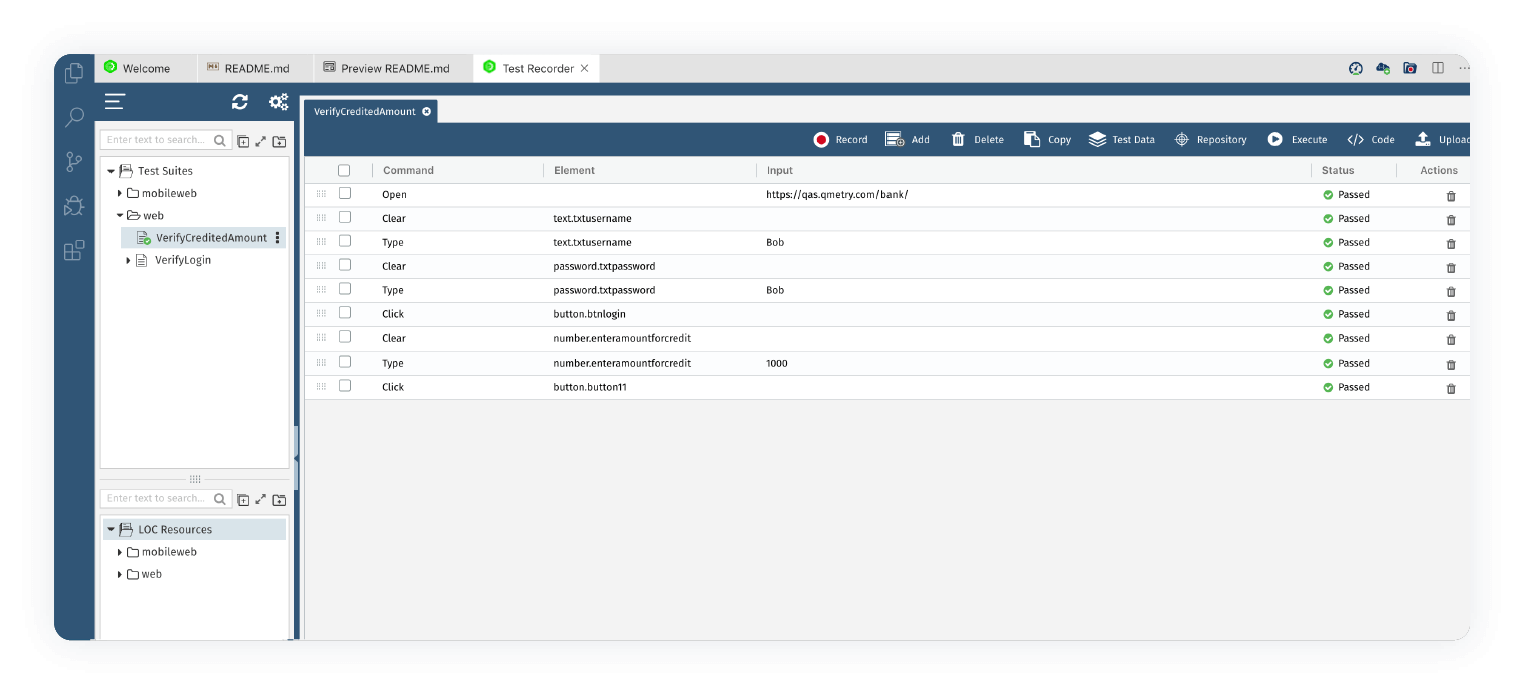 4. Let's assume there is a requirement for the UI of this application to be changed. And developer changed the design and position of UI elements.
The new UI looks like this. Major changes are – UI is changed and the button name has been changed to "Withdraw" and "Deposit" instead of "Debit" and "Credit".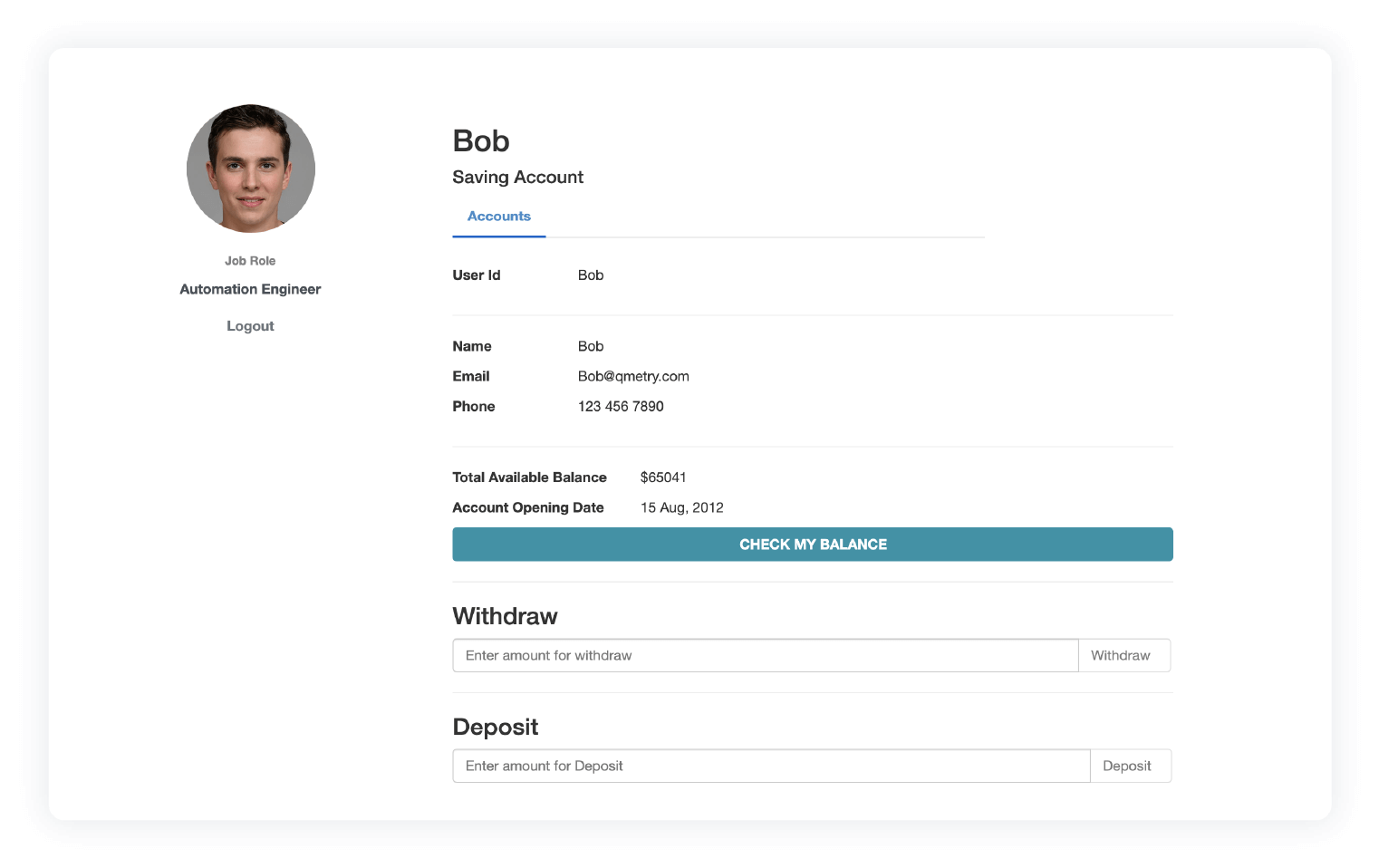 5. However, the automated test scripts are not changed as per the new requirement. Hence, the sameautomated tests run but now for new design. Due to this change, these automated tests fail.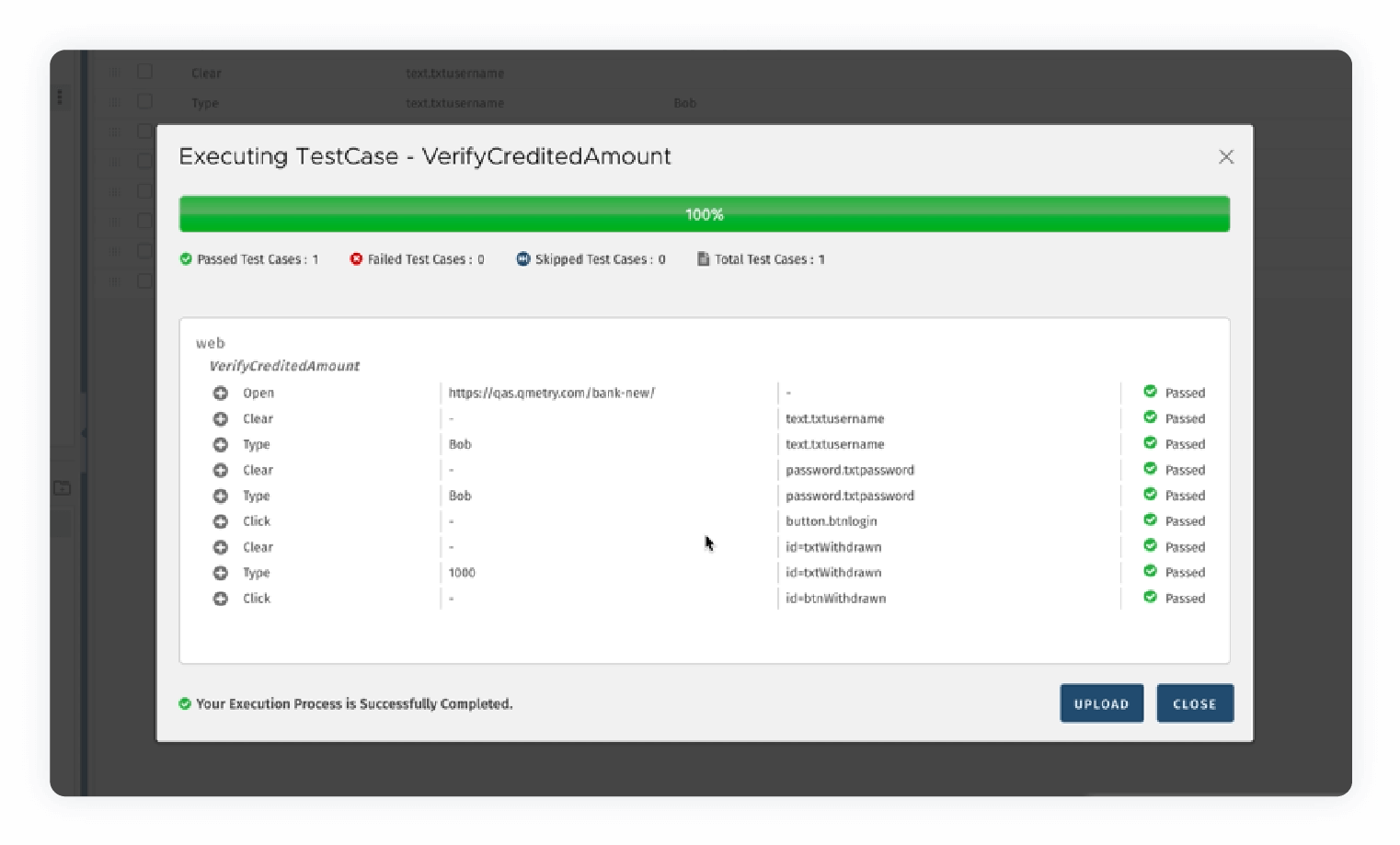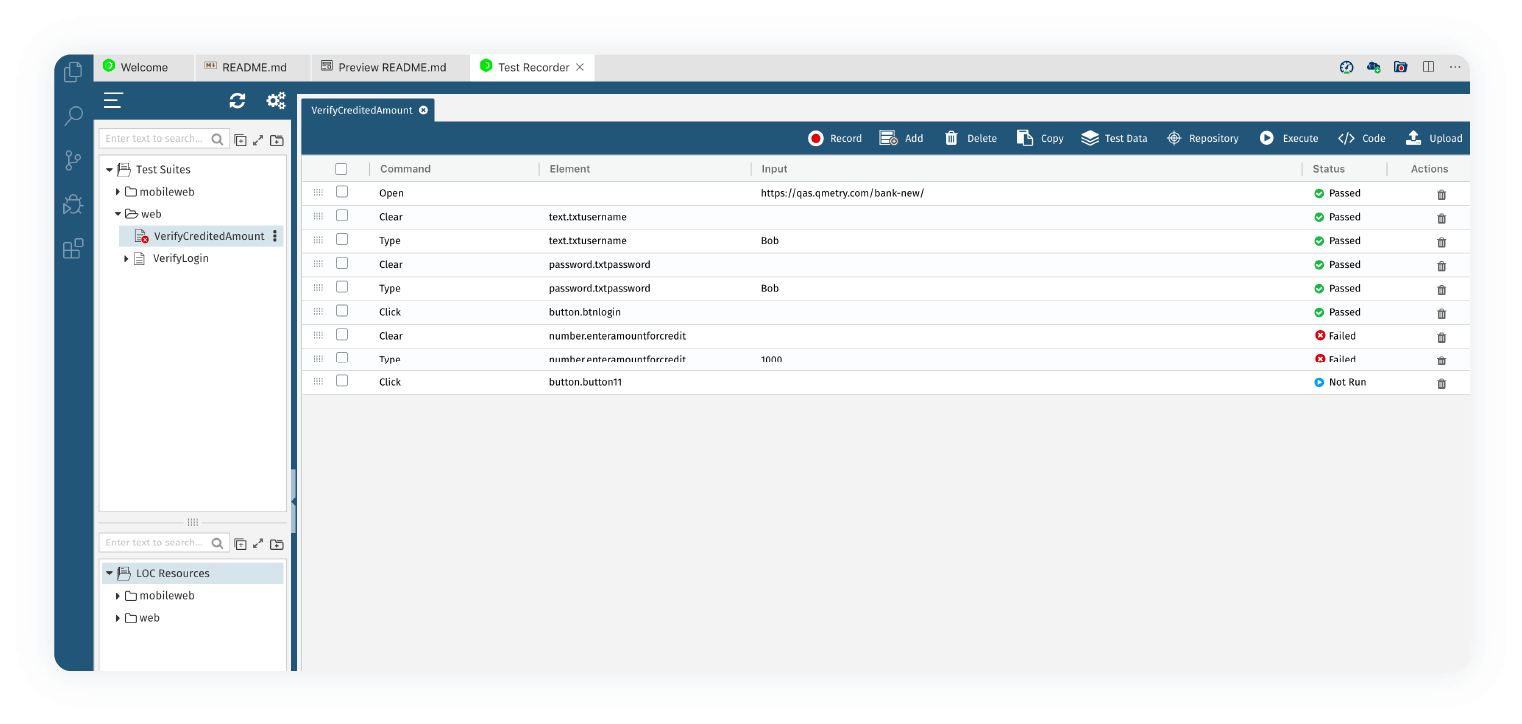 This is the point where automation engineer's time is spent the most in fixing these flaky tests. They have to find out what has actually happened that caused these tests to fail. They have to go to recorder manually and find the new element and verify that, are the tests failing due to change in the UI or are these tests genuinely failing? These increases maintenance time and costs to a large extent.
QAS Self-healing mode
6. At this stage, I would like to show how QAS's Self-healing mode works. While executing the tests, the engineer would select "Self-healing" mode.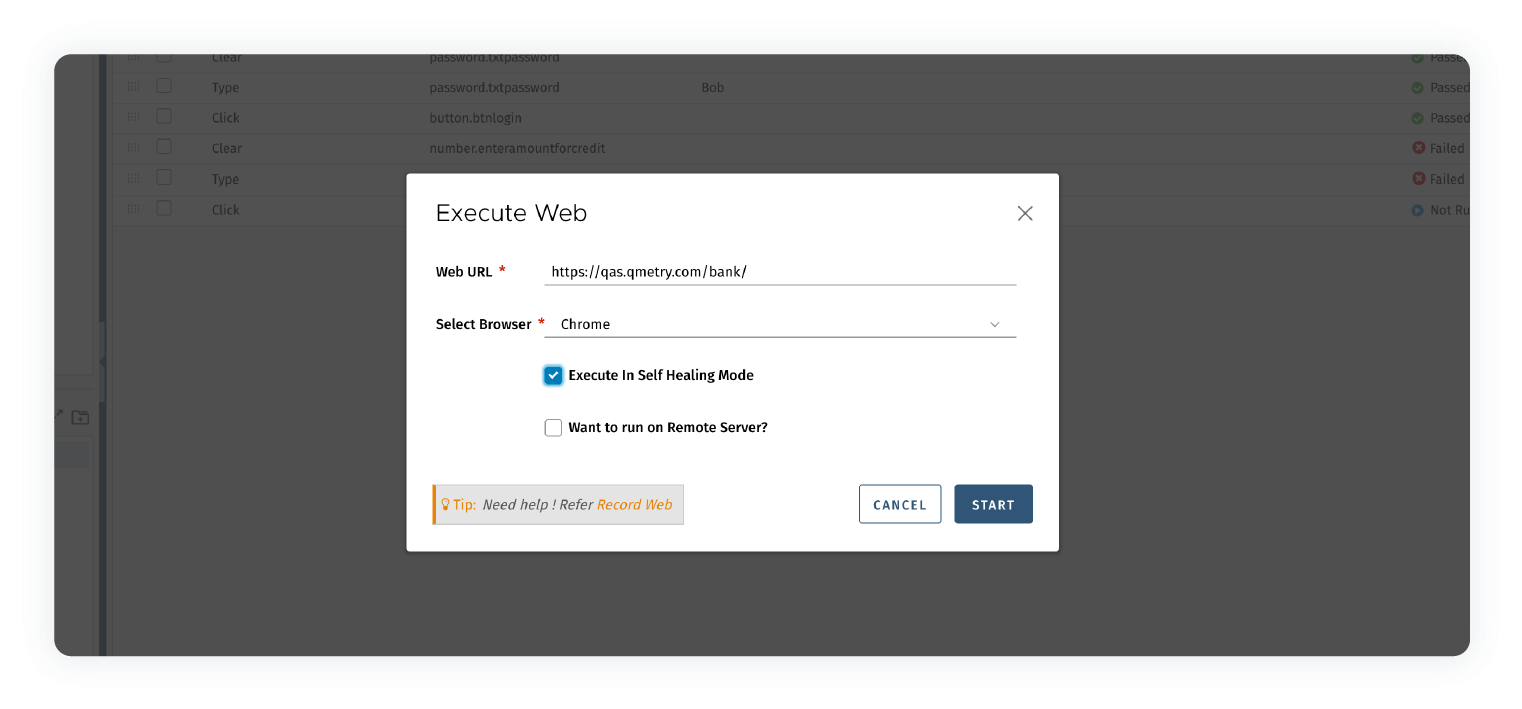 7. In QAS, Self-healing of scripts would automatically detect altered elements to find out the locatorswithout any manual intervention from testers. QAS will re-test the script and notify the user whether the suggested solution has worked or not. In case any of the alternate elements are unable to get the locators, QAS will give an option to users to fetch the correct locators at run-time.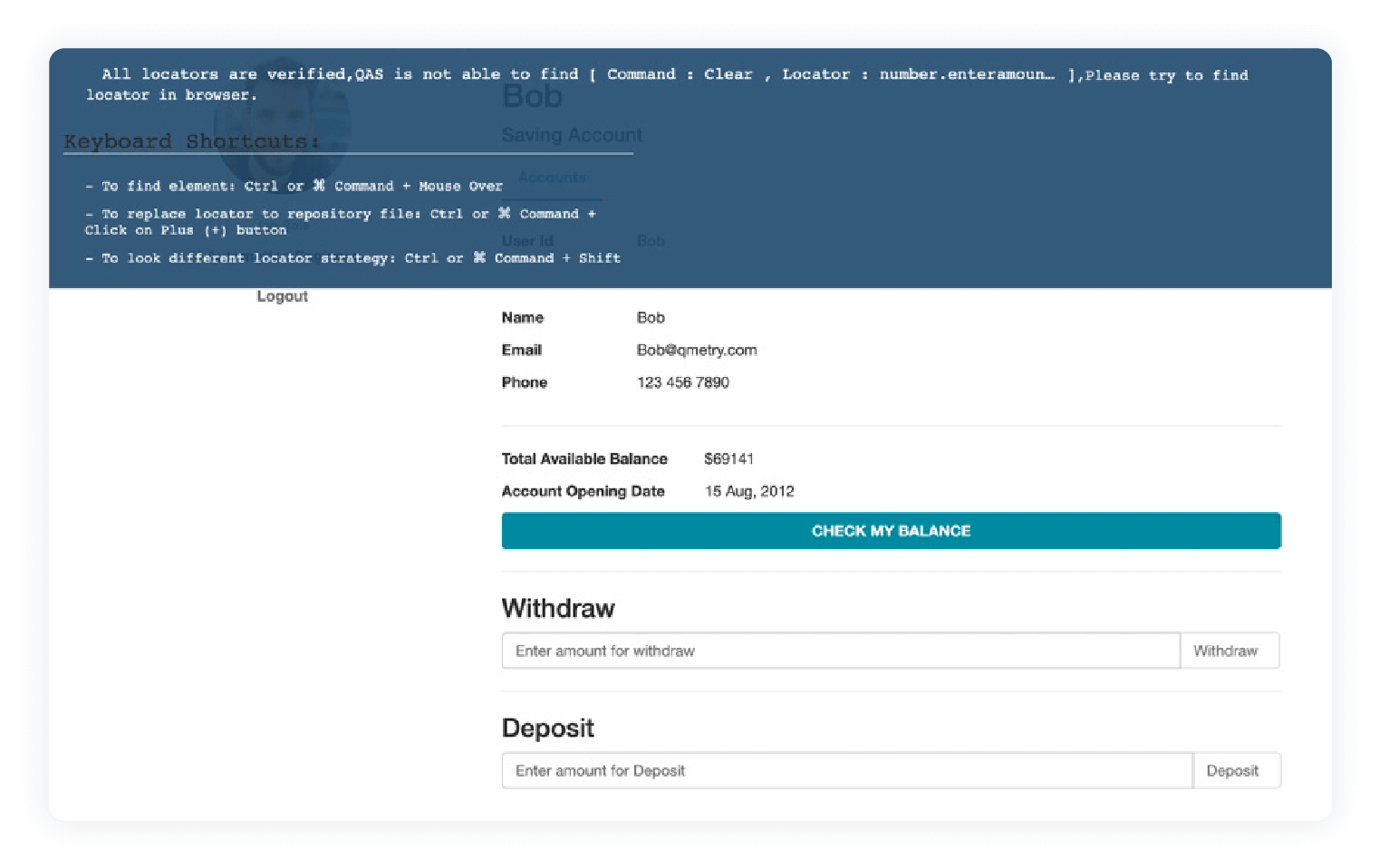 8. It also helps in reducing duplicate test cases. As QAS itself detects changes and creates alternates, it reduces the chances of creating a completely new test case for the same use case. With Self-healing, you just alter the current test case and not add a new test case.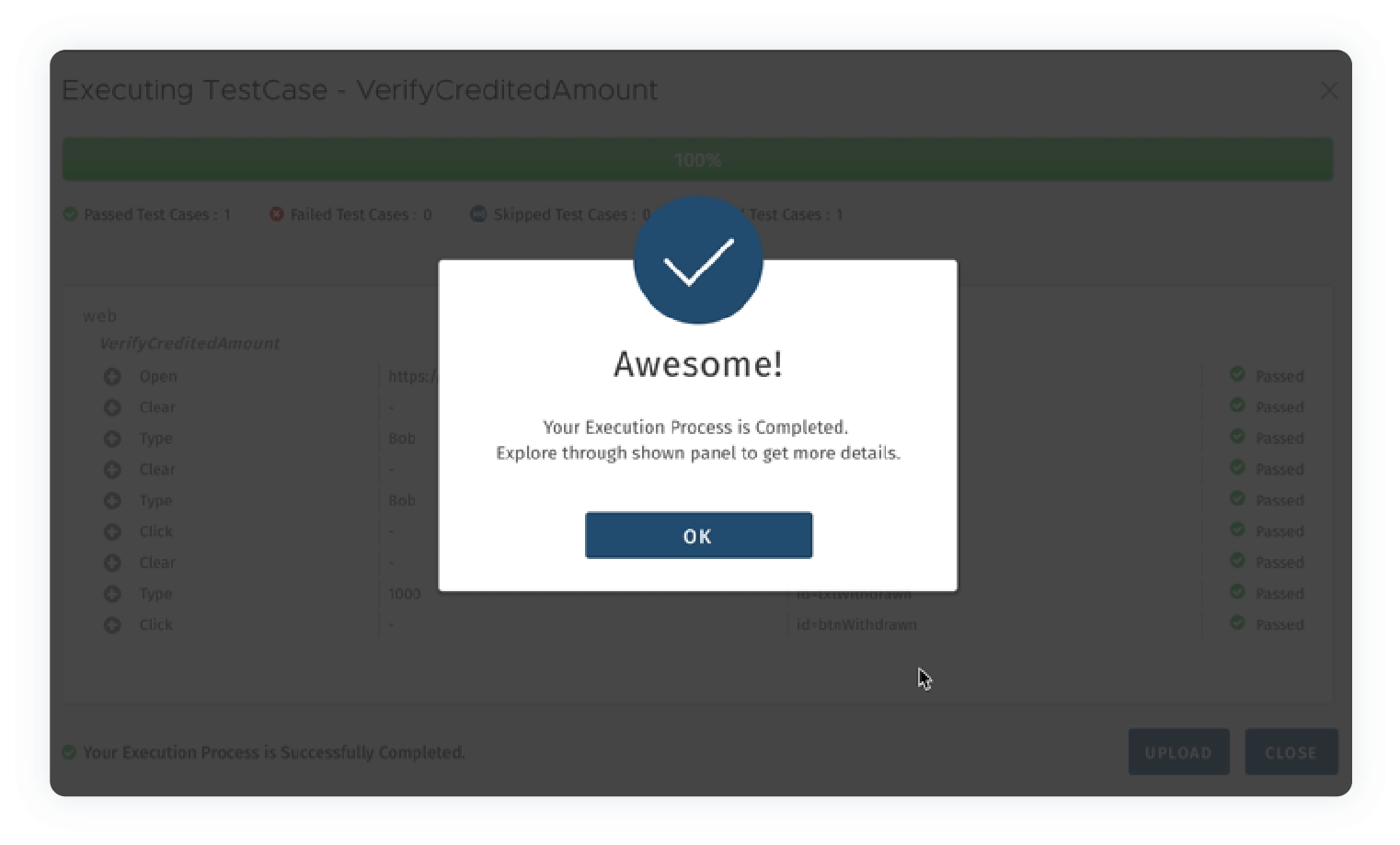 Conclusion
When the web pages on which the test case is recorded change frequently, the Self-healing capability comes in handy. If Self-healing Mode is set, QAS will attempt to automatically change locators in order to complete the test. Even if the test fails, QAS allows the user to choose a suitable locator and add it to the script directly.
Few benefits that can be achieved with QMetry Automation Studio are –
Automation engineers can now save 40% time on test maintenance
Enterprises can save 35% cost by eliminating flaky tests, thereby achieving stable test scripts
Start your 30 days free trial of QMetry Automation Studio
Register Now