As promised in our recent announcement, we are here with a release before the holiday season. QMetry Test Management v8.7 is now available for our SaaS and Server customers. This is a major release focusing on integration support for Azure and rally, National Language Support Capability, QQBOT insights using AI technique, Exploratory Testing for Firefox and enhanced traceability.
New Features and Improvements
General Improvements
QMetry now supports any International Language (available on request). We have currently added support for Español (Spanish) and introduced our Internationalization App.
You can now bulk-export up to 50 test cases to a single PDF file.
QMetry Automation Agent is now supported on Open JDK 11.
Archive individual test executions to prevent them from getting altered due to changes made to the scope of test suite when reusing test suite for future executions.

Test cases added to the test suites are not added to the archived test executions.
Test case linked to archived executions can't be unlinked from the test suites.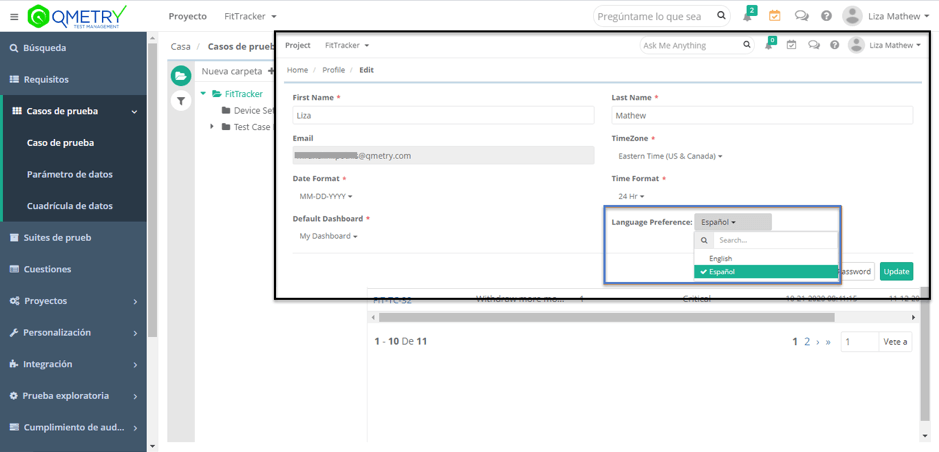 Integration Improvements
Integrate Azure & Rally to sync work items in QMetry to get complete traceability for Requirements -> Test cases -> Test Suites -> Test Executions -> Bugs.

Sync Azure/Rally Work Items like User Story/Feature/Epic etc in QMetry as Requirements. The integration is unidirectional, changes made to work items sync real time to QMetry.
Sync Azure/Rally Work Items like Defect/Issue/Bug etc in QMetry as Issues. The integration is bidirectional, changes made to work items sync real time to QMetry and vice versa. Existing work items can be linked to executions or New work items can be created directly from the test case execution screen.

Improved Issue traceability in Requirements – Issues linked to test case executions are now auto linked to QMetry requirement under the issue tab and also under Jira issue link for stories synced from Jira.

`Jira Integration – QMetry Enterprise` app v2.1.0 is released to be compatible with QTM 8.7. Customers using Jira Server/DC need to update this app manually, while it is automatically upgraded for Jira Cloud.
Report Improvements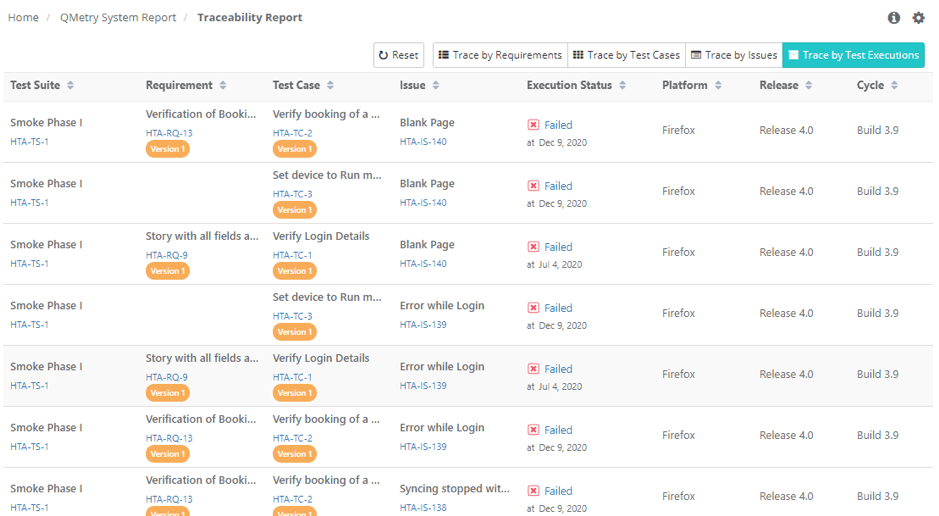 New Report – "User Project Role Summary" has been added to "Login Summary" Dashboard It displays the list of all users assigned to different projects along with their roles and status.
Improved Traceability Report –

Trace by Requirements/Test Cases/Issues can filtered by any System or External Tracker fields.
Added "Trace by Test Executions" that allows users to view traceability by filtering executions with specific release/cycles/platform combination.
Filters applied or columns selected on module grids will apply to traceability report by default. This helps users to reuse the module filters instead of applying those filters again.

Filter icon on the report gadget displays the count of filters applied and upon hovering displays the applied filter.
Archived Test Executions Runs are excluded from system reports.
Exploratory Testing Improvements
The "Exploratory Testing" extension is now available on Firefox. This Firefox extension is compatible with release 8.7 and above.Click here to download – QMetry Test Management Exploratory Testing for Firefox (v1.0.3).
With release 8.7 upgrade users will be required to upgrade the latest version v1.0.8 of QMetry Test Management – Exploratory Testing extension on chrome browser for compatibility.
Introducing QQBot with AI capabilities

QQBot provides insights to the end user by finding redundant test assets while creating, editing and viewing test cases and requirements through an intelligent duplicate detection algorithm.
QQBot provides suggestions for possible duplicates by displaying the test case and requirement matches along with the matching percentage.
QQBot predicts test cases that could possibly match a requirement and vice versa.
QQBot is currently available only for SaaS customers that have the QQBot app feature enabled.
End of Support for Internet Explorer
We are retiring IE support for QMetry Test Management – Cloud and Server products. The support for IE will end on 30th June 2021. End of support means we will not fix bugs that are specific to IE and will continue to introduce features that aren't compatible with this browser. QMetry will continue to provide support on Edge. We suggest all our customers using QMetry on IE to shift to Edge or Chrome/Firefox.
In 2015, Microsoft released Edge as the browser to supersede Internet Explorer (IE). To allow us to continue to take advantage of modern web standards to deliver improved functionality and the best possible user experience across all our products, we have decided to end support for IE.
QMetry Test Management is a new generation tool that provides complete test management for Agile and DevOps teams with a range of modern features including seamless integrations, end-to-end project visibility, compliance and audit reporting, advanced analytics with custom and complex visual analysis.
If you are interested to see how QMetry can benefit your business, sign up here.