Last week, a bunch of us from QMetry were at the STARWEST software testing conference in Anaheim, California. It is one of the longest running and most well-known conferences/expos on software testing and Quality Assurance. Of course, when the venue is Disneyland, you know fun times are in store. But what a week it was! Here are some glimpses of the event, as we witnessed it.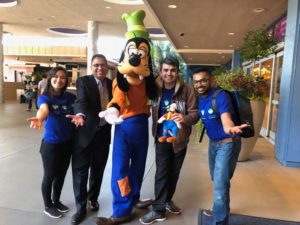 With interesting keynote addresses like Microsoft's Dona Sarkar's Be the Lord of Your OWN Rings: How to Build Your OWN Insider Testing Program to Lightning talks that give you multiple keynote presentations in a series of 5 minute talks, the conference started with the right note. Dona Sarkar spoke about how the Windows insider team works with millions of testers around the globe that represent its global user base.
Team QMetry saw some enthusiastic participation and interactions at our Booth 52. We met some old friends, peers, industry experts and many of our clients.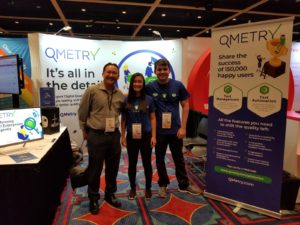 QMetry and Intelligent Test Automation
We were also one of the gold sponsors and before the conference, we had announced a drone giveaway on our website. Nathan Bramble of SouthWest was the lucky winner of this opportunity.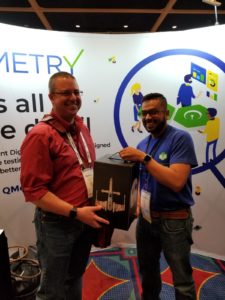 Our team demonstrated how successful testing teams use intelligent test automation to deliver software quality faster. For this we had two technical presentations by our experts Sanil Pillai and Harshal Vora. While Sanil talked about How to Automate Testing for Next-Gen Interfaces (BOTs, Alexa, Mobile), Harshal presented on Leveraging Intelligent Test Automation for Agile and DevOps.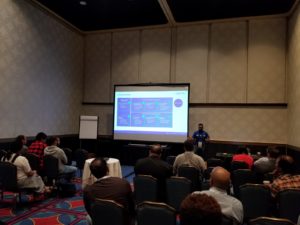 Watch this space to find a video of these presentations, coming shortly.
Key takeaways
The dominant themes and conversations were centered around the impact of AI/ML on software testing and the agile/DevOps journey, and capabilities required for continuous testing and key trends in test automation. The rising interest in Agile testing and testing in DevOps was evident by the training sessions, tutorials and the enthusiastic participation.
The interest in Intelligent Test Automation was palpable and much of the concurrent discussions are about AI/ML's role in the future of QA.
Another important trend we witnessed was the interest in migrating from ALM to a more agile-friendly and next-generation digital quality platform. Since the Agile and DevOps practices have enabled continuous testing, ALM is often seen as a road-block due to lack of integration with CI/CD and Agile tools. Following Micro Focus' acquisition of HPE ALM, organizations have doubts regarding ALM's capabilities to meet the Agile transformation needs of today's businesses.
You can find out more about moving from HP ALM to QMetry here.
In general, STARWEST always has a lot to offer with over a 100 learning and networking opportunities. Participants return with a sense of direction for QA, automation and great ideas and concepts for the future of testing.
If you missed meeting us at the booth or want to know more about intelligent test automation, here's a link to a free consultation.
And last but not the least, the QMetry T-shirt was a massive hit at the conference.