Our team at QMetry has been quite busy these last couple of weeks and we have an important announcement. QTM4J v4.1.0 is now available for all our cloud customers releasing 8th of August. Here's an evaluation version, if you are curious to know.
So, what's new in QTM4J v4.1.0?
We have introduced an all-new Execution Screen View or List View and a revamped execution screen with a grid view, major improvements to the test case, test cycle and test execution sections. There are some major UI and reporting improvements that enhance usability and make the experience intuitive. Based on customer feedback, we have also added major updates to our reports in terms of filter selections, chart display, export fields, etc.
Improved Test Authoring
Now you can view, add, modify, delete and clone test case steps directly from the test case list view section. QMetry will automatically classify the test cases as manual or automated depending on how they were created. Further, you can execute the test cases linked to test cycles right from the Test Execution Tab.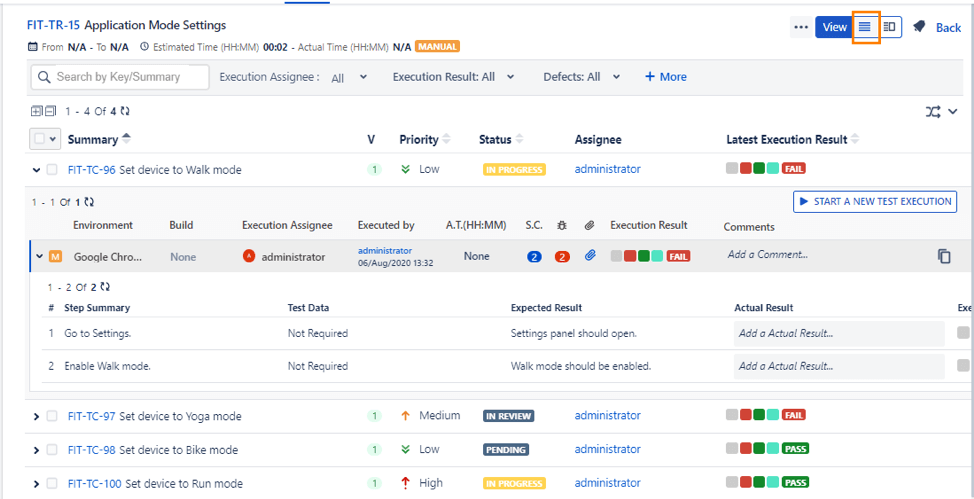 Enhanced Test Cycles and Execution
Now testers have the option to view the Test Cycles and capture Test Executions with two different views – Grid View and List View.
With the all-new test execution screen that provides the details in a list view, you also have an improved test execution section in a grid format.
Use the grid view to switch between tabs like Test case Details and Execution. You can also view bugs and attachment details added at test steps during execution. Additionally, the execution screen shows attachments that were uploaded while authoring test cases.
Managers can implement bulk executions, assign testers, update build and environment details for test cases from the execution screen or delete an existing test execution. QMetry will automatically classify test cycles or executions as manual or automated based on the method of execution.
Users can export test cycle execution details for recent or all executions along with all test steps and relevant bug details. The newly added Execution Summary column on Test Cycle list view shows the count of test case execution based on the status.
Now, you can also view, add, edit, delete or clone test steps from the Test Cycle, Test Case tab.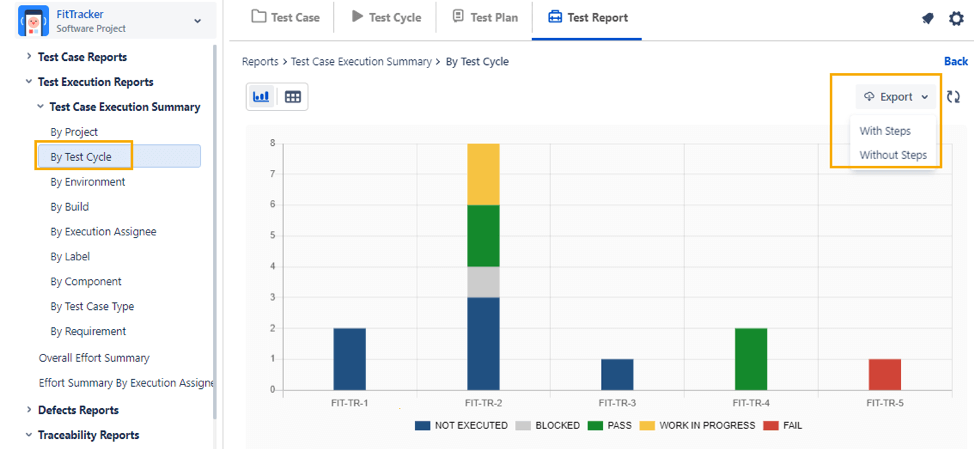 Traceability
Improve end-to-end traceability by linking multiple versions of a test case from the Test Case/Acceptance Criteria section.
Team leads or QA managers can easily export test cycle execution details for all executions with the Test Steps and manage test steps directly from the story page. To save your time and effort, you can also create the test cycles directly from the Story Page.
This improvement enables you to execute test cases directly from the Test Case/Acceptance Criteria section.
Traceability reports can now be generated for the latest executions or all test case executions. The exported reports display test plan information.
The Bug Traceability section enables you to view traceability from test cases, test cycles to test executions. Additionally, the bugs raised using Exploratory Testing record and display the full environment details.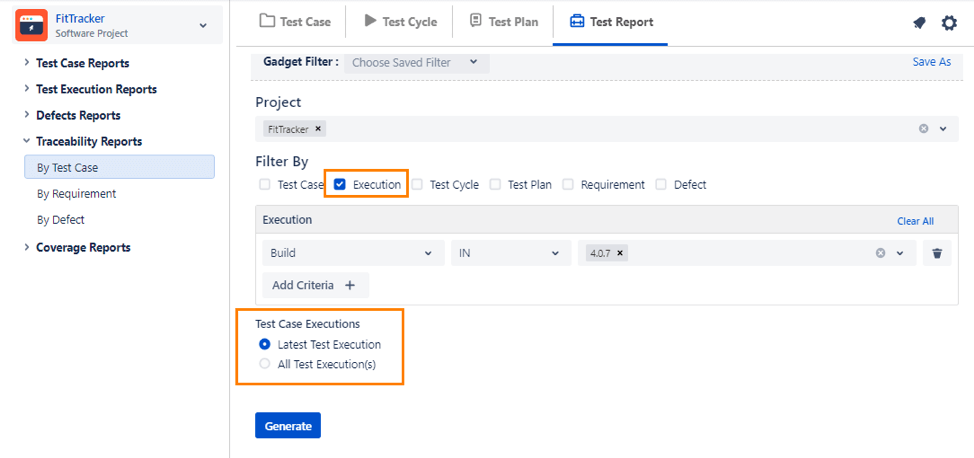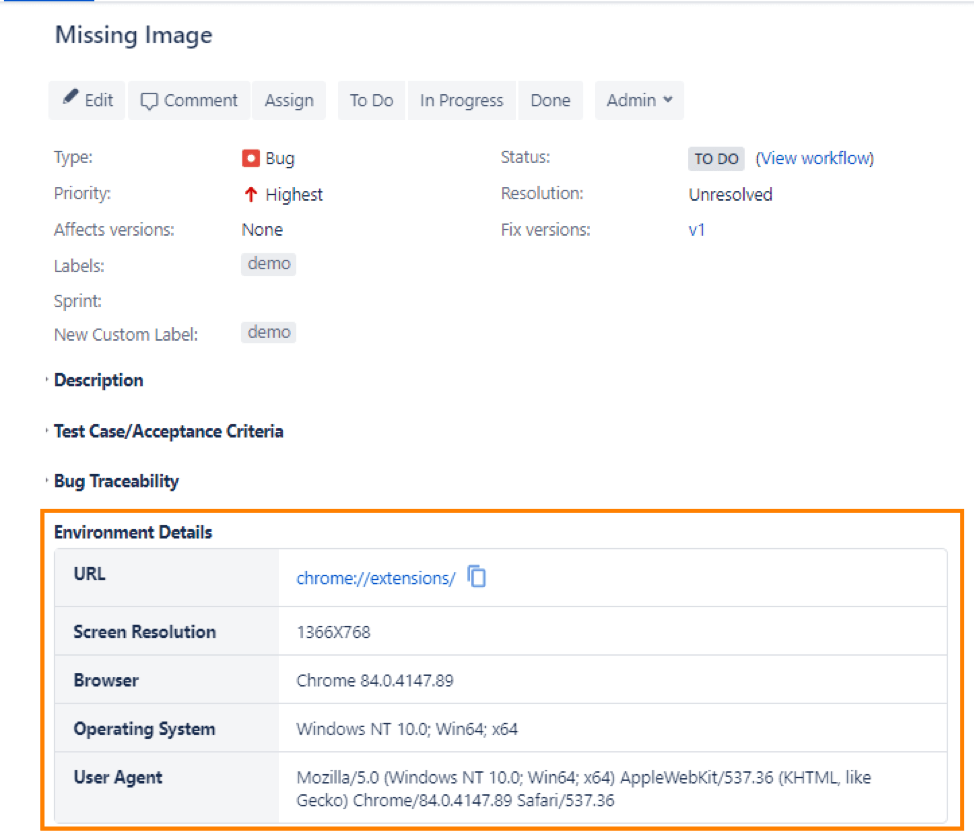 Enhanced Reporting
We analyzed all our reports and figured out that our users want to see reports based on Test Case type – Manual or Automated. You can generate reports easily by applying a filter for a selected time period, or on the basis of Test Case type – automated or manual. Also, Testers and QA leads can now export all Test Cases and Test Execution reports with or without steps.
All the reports are now represented smartly based on the finite fields required to display the data. For example, Manual vs. Automated reports by default load in Pie Chart as there are always going to be only two fields for display – Manual and Automated Test Case type. We have also added new Test Case Summary reports grouped by Assignee, Reporter, Sprint and Fix version.
Along with different charts, reports are now also available in a tabular format that gives a summary of data. The dashboard gadgets graphical chart option is now displayed on the report header and all tabular view gadgets show Total Count for the data summary.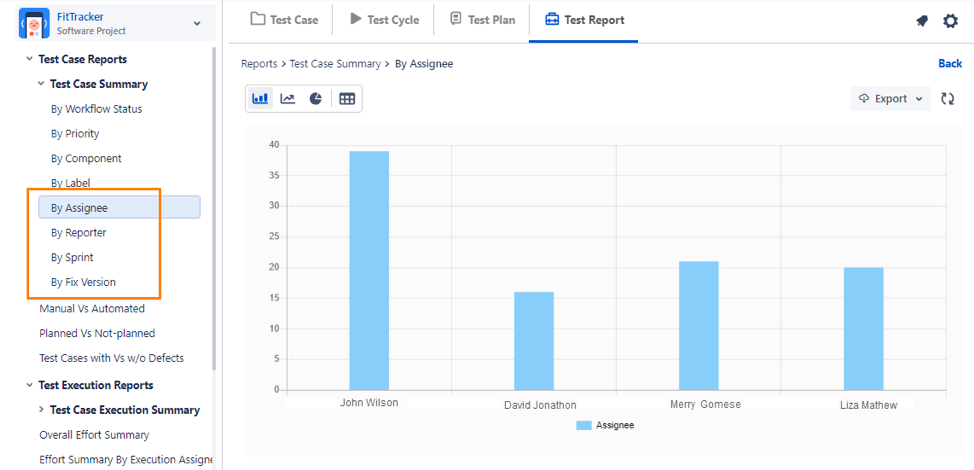 Improved Configuration
We have added support for additional custom fields such as Cascading List, User List and Labels. You can import existing Jira labels and components to a QMetry project and also customize the pagination across the product using General Settings.
Now you can easily copy project configurations including labels, components, priorities, status, execution results, environment etc. to other projects. Our newly designed configuration menu has better options. The revamped project settings page allows you to bulk enable or disable Test Case/Acceptance criteria panel, bulk enable or disable Bug Traceability Panel for bulk issue types.
You can better manage issue types for Story and Bug in separate tabs along with search function.
Better User Experience
Some other improvements include the ability to tag users in descriptions and comments. The tagged users are then notified via email alerts. The improved project search and selection across the app includes infield search for all list fields to easily select values. Additionally, there is support for .dwg format as attachments, new list values for Labels and Components while authoring test assets and new values for environment and build while executing test cases.
You can also share test cases, cycles and test plan folders with a direct link, or quickly access a folder with the folder search option. All test assets have a summary field displayed through the detail screen for a quick overview. The Created/Updated Dates and Created/Updated User on the detail screen make it easy to trace back the details.
Finally, QTM4J v4.1.0 is compatible with QMetry Maven Plugin v2.0.4. You can upgrade to the latest plugin to import your automation results to QMetry.
For more details, please refer to the release notes.