For example, some DevOps teams like using Jira for test case management. And with a little creativity, a little customization, it can absolutely be configured to implement end-to-end test management.
If your dev and test teams are extremely partial to Jira and would rather use it for test management, here are few tips that can help you customize Jira for managing testing.
How to use Jira as a test management tool?
Jira is a powerful tool with various customization options. You can modify it for a huge variety of use cases. Test management is one of those use cases.
There are two options that users have. One is to customize Jira by using it for manual testing and handle automated testing with the help of a CI server. One can set up acceptance tests, integration and functional tests inside Jira. The existing capabilities of Jira can be used for test case management as such to do the following:
Manual testing
Linking to bugs and requirements
Creating custom issue types like test cases and stories
Controlling QAs, devs and testers using workflows
Creating subtasks
Integration with source code repositories
Reporting and dashboards
Importing from other systems
However, for using the full potential of test management some teams might find it easier to use the other option, that is integrate Jira with test management tools.
Here I'll discuss how to customize Jira for Test Case Management.
Note: It is important to have admin rights and a backup copy of Jira before you start to customize it for test management so that you can test it sufficiently (or restart if needed).
Using Jira Software for Test Case Management
Writing test cases in Jira
You will first need global administrator rights to configure Jira screens, schemas and custom fields.
1: Create a project in which you would like to create your test cases.
Go to the home screen and select Projects > Create Project.
Assign a name to your project, for e.g. Online booking
Choose and assign a template such as 'Bug tracking'. Ensure that you have chosen the 'bug tracking' template rather than the default one.
Once you have managed user permissions and project setup, you will need to fit Jira to your needs.
Configuring Jira for test case management.
Here's how you will configure Jira to accept new test cases along with the relevant fields and forms. Ultimately you should be able to add test cases just like you added issues.
First, add a new issue type to your Jira account.
Navigate to Settings under the main menu and under that Issues and Issue Types.
Now click on Add issue type and create a new issue type that has the following values.
Name: Test Case Screen
Type: Standard Issue Type
2: Add custom fields
Now you need to add custom fields that will allow you to define the details your test cases must have.
Under the main menu go to 'Settings' > 'Issues' > 'Custom Fields'
2. Next, use 'Add custom field'. For each field that you choose to add, you will have the option to select the data type, and the ability to give it a name.
Next choose the following two custom fields:
Name: 'Test Case Steps' Field Type: Text field, Multi line
Name: 'Test Case Expected Results' , Field Type: Text field, Multi-line.
3: Creation of Custom Screen
Now you will need to create a custom screen to which you will add these fields.
Navigate to main menu, Settings> Issues> Screens.
Click on Add screen and create a new screen with the following values.
Form field values:
Once you have created this, you will be led to a page that enables you to add custom fields to the new screen. Add the following three fields using the dropdown menu:
Summary
Test Case Steps
Test Case Expected results
4: Screen Schema
Create a screen schema and associate it with the screen that you created in the previous step.
Navigate to Settings> Issues> Screen Schemes
Click on Add screen scheme and create a new schema with these values:
Form field values
Name: Test Case Scheme
Screen Scheme: Online booking Bug Screen (or name it similar to your project).
Once you have created this, it will present you with the screen configure the test case scheme. Select the Edit option for the default issue operation listed.
Set the appropriate form options and click Update to save your changes.
5: Creation of Issue Type Screen Schema
Settings> Issues> Issue type screen schema
Click Add issue type screen scheme and create a new schema with these values:
Name: Test Case Screen Scheme
Screen Scheme: Test Case Scheme.
Once this has been created, you need to configure it for the specific, custom issue type that you created in the previous steps. You should be on the relevant page by default but if not, then navigate to Issues> Issue type screen schemes and click on configure to next to the schema you created.
Now click 'Associate an issue type with a screen scheme' and create the new entry with the values for form fields:
Issue Type: Test Case
Screen Scheme: Test Case Scheme.
6. Updating the configuration of the Jira Project.
Move to the main overview page of the project where you have created your test cases.
Select project 'Settings' and select 'Screens'.
In the top right, use the actions button and choose 'Use a different scheme' from the drop down menu.
Choose the following form options and click 'Associate' to save the changes.
Scheme: Test Case Screen Scheme.
7. Adding the Test Case Issue Type
In the global settings, go to main menu, navigate to Issue Type Schemes. Click the Edit link for the project that you will be using.
Drag the Test Case issue type from the Available Issue Types box to Current Scheme box and save your changes.
Note: You can also remove some of the types that you don't' need. Make sure you retain the 'sub-task' type. At the very minimum you will need Test Case and Sub-task types for your project.
8. Creation of test cases
You have configured Jira to enable the creation of test cases. If you view the project and select the issue of the 'Test Case' type you will be shown a form. The summary field is a must in Jira, so use it to give the test case a title and a test case reference number too. Go ahead and create a few test cases now.
1. Create the 'Test Case' Jira Issue type, but keep it open
I assume you already know how to create a new issue type.
However, I'd like to remark Jira issues normally ought to be pushed to 'done'. As a result, there's a challenge when you want to rerun or reuse tests. You would need to keep it open.
Also, it's quite difficult to keep track of all your test data when you manage test cases as Jira issues. This creates problems when you try to create test coverage reports from different sources.
2. Modifying a User Story to Create a Test Case
User stories present the same challenges as Jira issues.
Reusing tests will still pose a challenge. And since Jira doesn't have a built-in testing function(it was never intended to be used for testing), this further compounds the issue.
3. 'Testing' Status in your workflow
Another issue is that you might find yourself moving to 'done' status before you are really through with the test.
To resolve this you need to tweak the workflow so that the test status is not 'done' until you are actually done. But this just means adding more steps to the manual process.
Is there a more effective way of test management in Jira?
The truth is that Jira is not really meant for test management. And yet, many organizations are using it for that reason.
Whether you follow the Agile methodology or waterfall, each test run is important. Tracking the results, managing and monitoring data from both manual and automated tests is necessary.
The reason for Jira's popularity is that it keeps development on track with its issue-tracking capabilities. However, testing and QA are a different story altogether. You can't revert to lengthy manual steps and processes 'just to make it work'. You can't afford to lose visibility on the development progress or match issues with the test cases.
So, what you really need is a Jira test case management plugin.

You can get a 30 day trial of the QTM4J Jira app for test management.
Sign Up Now
As we discussed earlier the other option is to integrate Jira with an external test management tool.
Implementing Test Case Management in Jira with a plugin
There's multiple Jira apps to handle test case management.
However in this article we will demonstrate this point using QMetry's Test Management for Jira. Which was designed to fix all of the challenges mentioned above and extend Jira's use for test management. QMetry Test Management for Jira has also been featured in Atlassian Marketplace's Staff Pick as a recommended tool.
Here's how you can leverage a test management app for Jira's powerful features to create a winning test strategy:
1. Complete test management right inside Jira
With a test case management app you can implement end-to-end test management, creation of test cases to linking existing test cases to stories.
You'll also be able to group test cases to create scenarios, assign testers, save test results, track execution history and automatically maintain the audit of test artifact changes.
With the folder-based hierarchy, you can group related test cases and organize them systematically. Like this: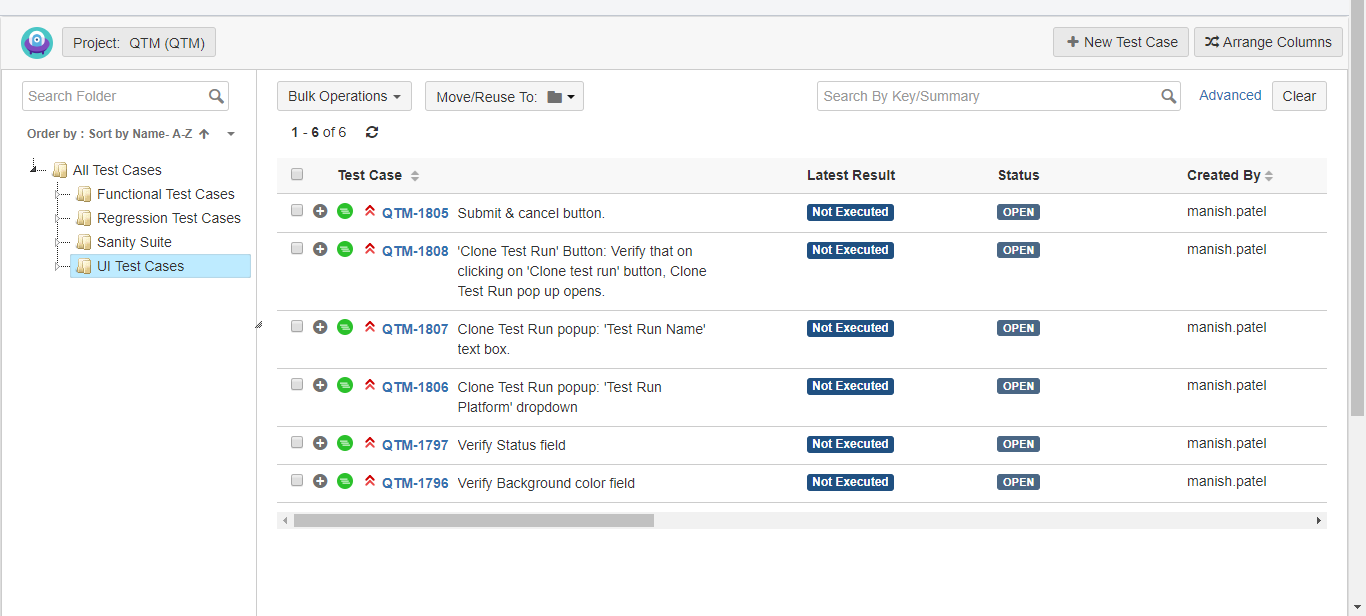 All use cases are extendable. You can also extend Jira workflows on QMetry Test assets.
Or if you like, you can migrate historic data from other tools and continue to strengthen the quality of your test suite.
2. Make critical quality decisions with comprehensive reporting
With a test management plugin for Jira, you'll also have dedicated reporting options.
QMetry's reporting feature offers coverage analytics, test runs and end-to-end traceability within the system. Although I'm sure other apps offer similar features.
Get real-time visibility on projects and teams for various reports. You can build your own customized dashboards and release with confidence using the executive coverage, reusability and various other insights.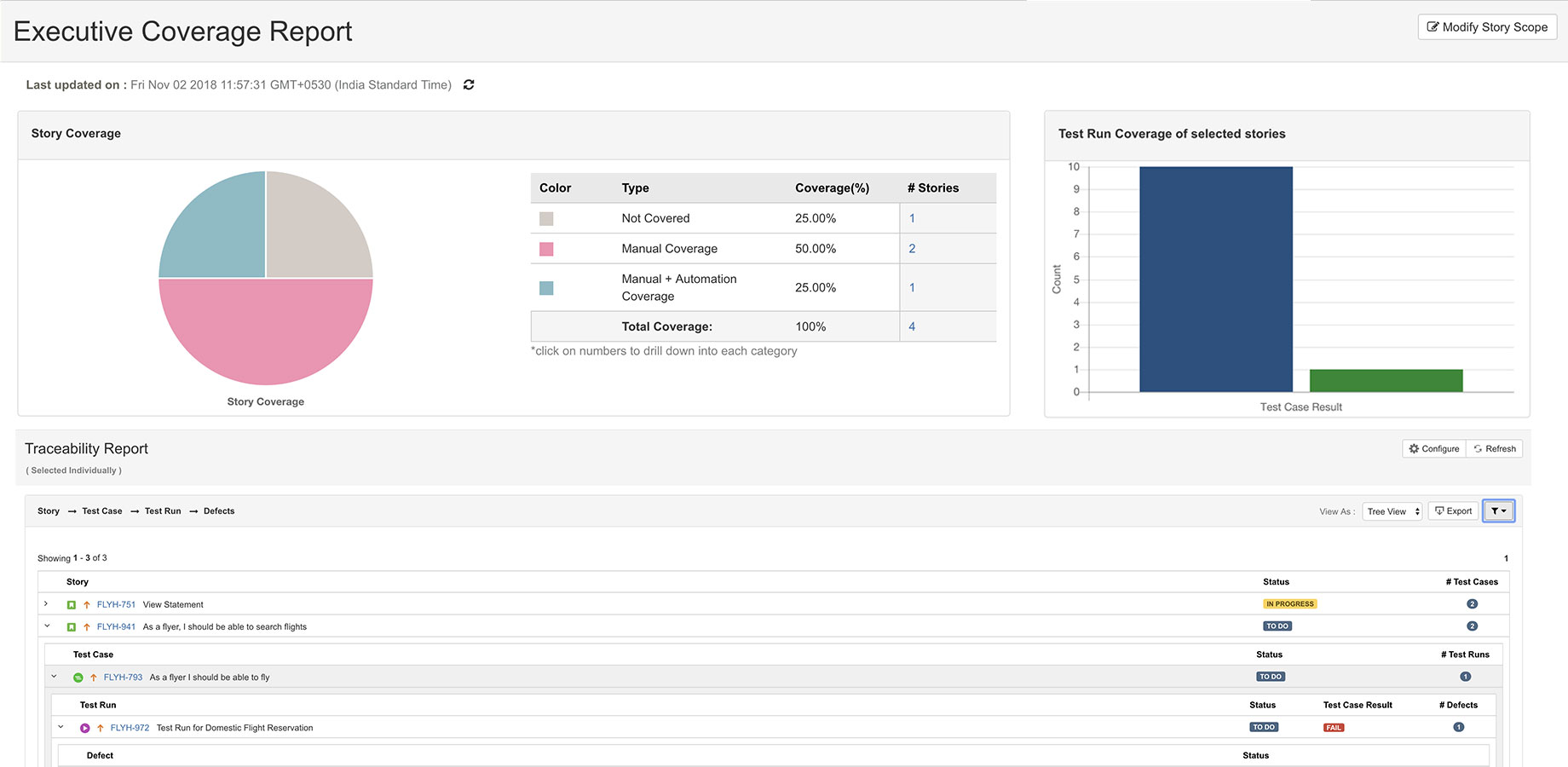 3. Power up with integration
You can implement end-to-end Agile/DevOps integrations using the Qmetry open APIs to connect with a wide range of automation and CI/CD tools.
Import your automation test results directly into Jira, by integrating with CI/CD tools such as Jenkins and Bamboo, and test automation tools like QMetry Automation Studio, Selenium, Appium, UFT, etc.
You can manage both manual and automation test results including exceptions in the test runs.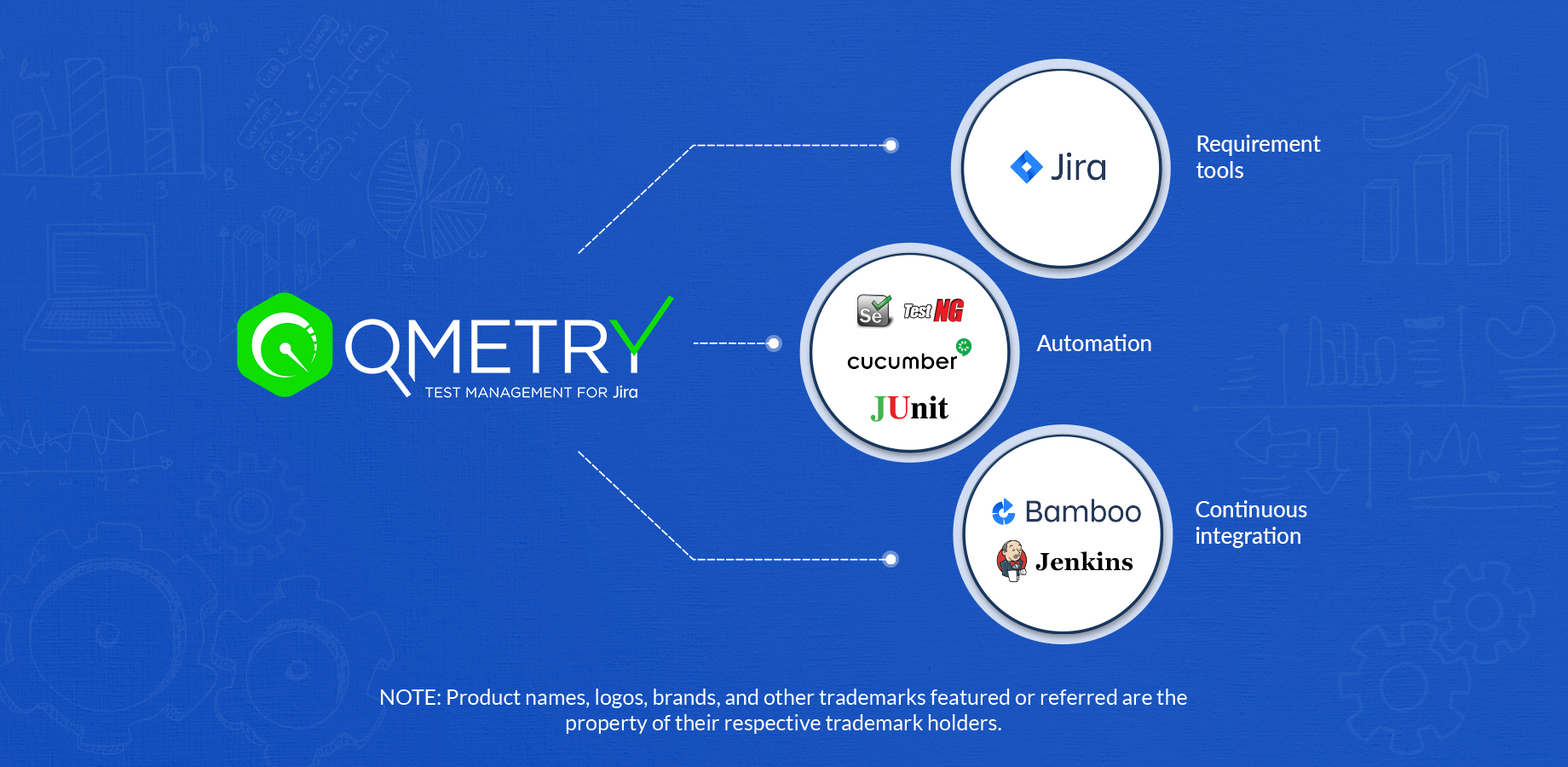 4. Exploratory Testing is your friend
Automatically record all actions and create annotated screenshots with an integrated exploratory testing app.
It enables you to export bug details with screenshots, environment details, add assertions, annotations, record voice memos. In short, it allows you to do more with the app in a less time with a quick and intuitive way to document your exploratory testing efforts.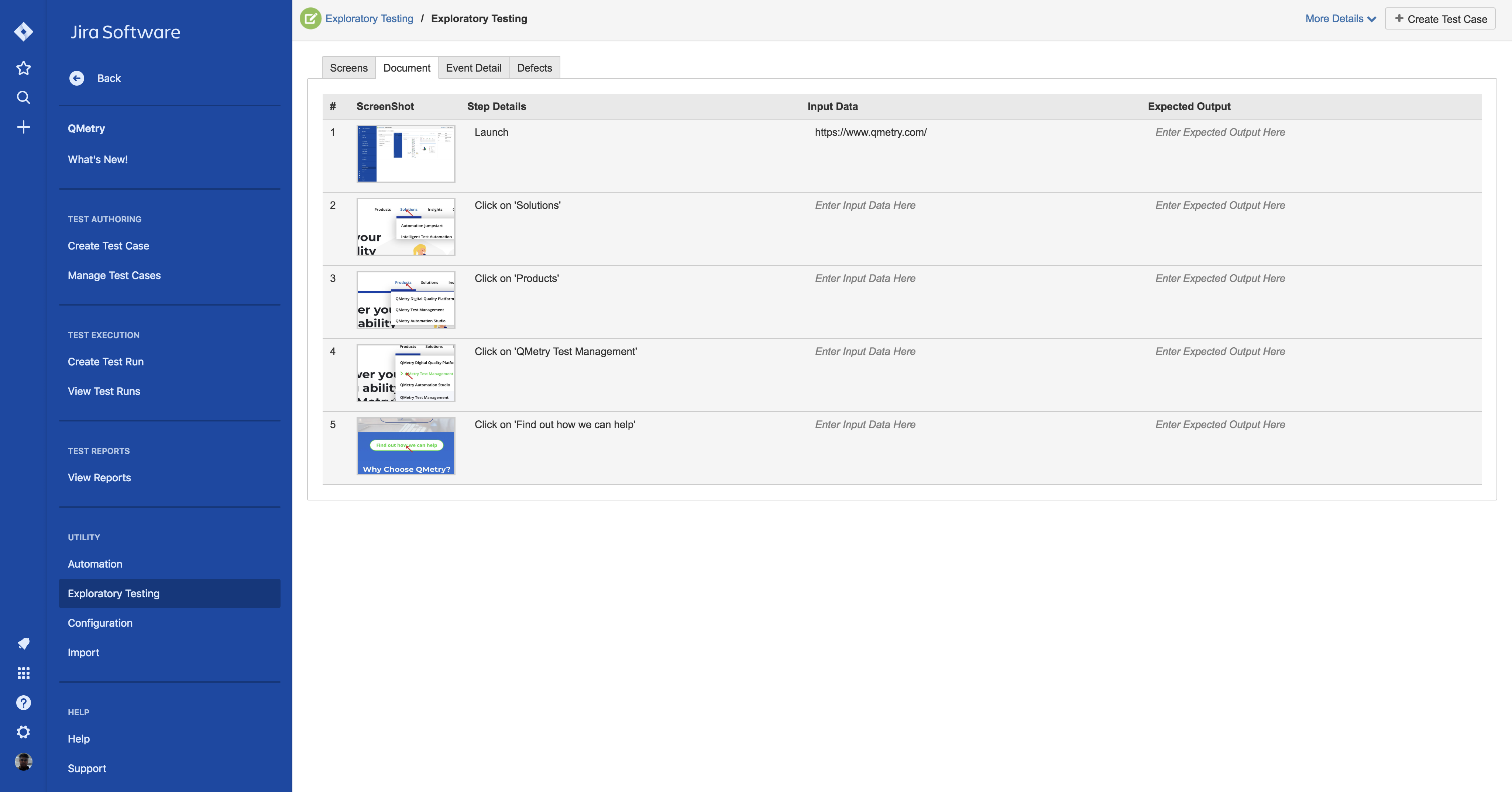 Be it to export/import your test assets, migrate historic data from various tools or get a prompt response to your query. QMetry is fully compatible with Cloud, Server and Data Center.
Conclusion
By using modern test management apps, you integrate QA tracking, testing and analysis in each phase of the software development process – thereby becoming truly agile. Your teams can move faster, identify problems earlier and with more accuracy, and release better quality updates.
You can significantly improve code quality by integrating a testing app directly inside Jira. This means tighter integration of product management, development and testing teams within the same environment.
You can streamline efficiency and productivity using a single app.
FAQs
Is Jira a Test management tool?
Jira is not designed to work as a Test Case Management tool. However, it can be tweaked or configured to support test case management in a couple of ways. At its heart, Jira is an issue and project tracking tool that allows users to track issues or tasks through a customizable, predefined workflow.
Can Jira be used for Test Case Management?
Yes, Jira can be used for test case management and countless teams already do so. You can either do this by customizing its native components such as issue type and workflow to meet your test management needs or use any of the apps available on the Atlassian Marketplace.
Can we write test cases in Jira?
Yes, you can. The exact steps are listed above.
Which are the best test management apps in Jira?
There are several test management apps in Jira such as QTM4J, Xray Test Management for Jira, TM4J, Zephyr for Jira etc. However, QTM4J is the most feature-rich test management tool in Jira to give you the best ROI. You get a seamless, one tool experience, with powerful test authoring, reusability, traceability and auditing. You can integrate with all major test automation and CI/CD frameworks. Also, QTM4J provides the most advanced and comprehensive analytics with more than 30 types of reports in Jira.
How to select a test management app?
Selecting the best test management app inside Jira requires you to research factors like cost, integration, comprehensive test management, reusability, traceability, execution of manual as well as automated test cases. Here's an in-depth blog post that will help you decide.