Quality Analytics and Decision-making insights have always been a priority for QMetry Test Management. From testers testing the product to QA managers overlooking the project status to finally the Management making final decisions about the product and go-to-market strategy. Test Reports with Continuous Feedback loops enable this workflow for enterprises. Therefore, a good reporting tool is and must be a top-most priority. Test Reports provide actionable insights to Agile Teams in understanding the project status and finally the product readiness for go-to-market.
Imagine if there is a tool that can create any report that your agile team wants. For instance, the QA Manager wants a report that tells him the "Number of Test Case Execution per release". The tester wants a report that allows her to compare "Total vs. Completed vs. Remaining Execution Efforts". And the Management wants to see "Defects by Status for multiple projects" to understand the Product Readiness.
This is what we have tried to achieve with our Reporting Module – You think of a report/data and with QMetry you can achieve it
Now the big question is how did we achieve this?
To make this a possibility, we have introduced QMetry Advanced Reports along with QMetry System Reports.
QMetry Advanced Reports
QMetry Advanced Reports are user-defined custom built reports. Users can decide the parameters for generating data for their report using this section. These reports give your agile testing teams the desired customizations and flexibility of creating reports based on their data visualizations. Not only these advanced reports generate data across projects, but they also populate reports with fields from different modules, hence supporting cross-modular reporting.
Again, based on the different user personas who will be using these reports, Advanced reports are further categorized into three sections –
QMetry Insights
QMetry Custom Gadgets
QMetry Dashboard
Use Cases for your Agile Testing Team
What does this mean for Testers?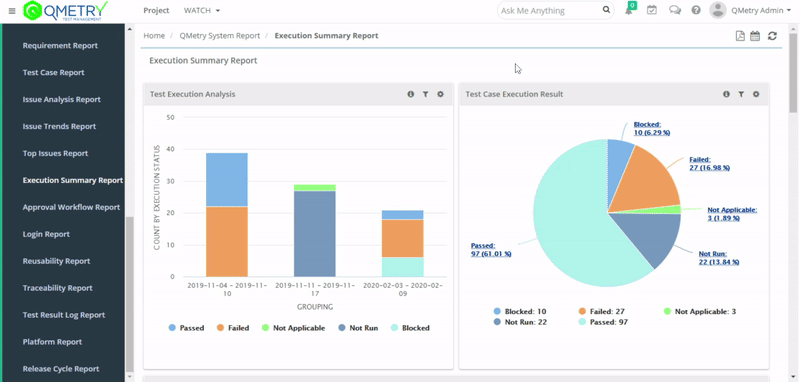 Testers must rigorously test the product day in and day out. On the other hand, they also need to know status of the testing performed so far in the project as well as the testing that remains. They do not need complex data structures or customized test reports to understand or know basic details such as – Test coverage, requirement traceability, Test execution status, Defect reports, etc.
Testers want quick and easy access of reports i and hence, for such users, QMetry offers system reports.
QMetry System Reports are built-in reports that come as a default. These reports are designed based on QA best practices across the world. There are 14 sections in the system reports.
Technical Users or Reports that needs complex data structure
Advance Query Reports of QMetry Insights is designed for technical users with the SQL knowledge who can write SQL queries and generate custom reports.
The Advance Query view gives more power and flexibility to the users by providing them an ability to create custom reports by writing basic to complex SQL statements.
Now the question arises here – how does the user knows the names of tables and field to create an effective database query?
QMetry Advanced Query allows users to create and execute SQL based custom reports using the Query Builder which has an entire snapshot of the QMetry data synced and accessible from just 15 tables.
To make this as easy and clean as possible, QMetry Query builder screen lists down the table names that resemble QMetry Test Assets and QMetry Modules. Along with tables, you also have the list fields that match with the general norm used.
In QMetry, we have provided a lot of system-defined filters available to users to generate a custom report with the required output. As a best practice, QMetry recommends creating queries using filters so that you can fetch the records easily which also saves your time in fetching the required records instead of all the unwanted records.
For business users such as QA Managers, Product Owners, Business Analysts
QMetry Insights – Visual reports are the ideal reports for these users. They want specific reports which cannot be fulfilled by System Reports. And note that these are not the technical users who can write queries. For such users, QMetry Insights has a module known as Visual Reports.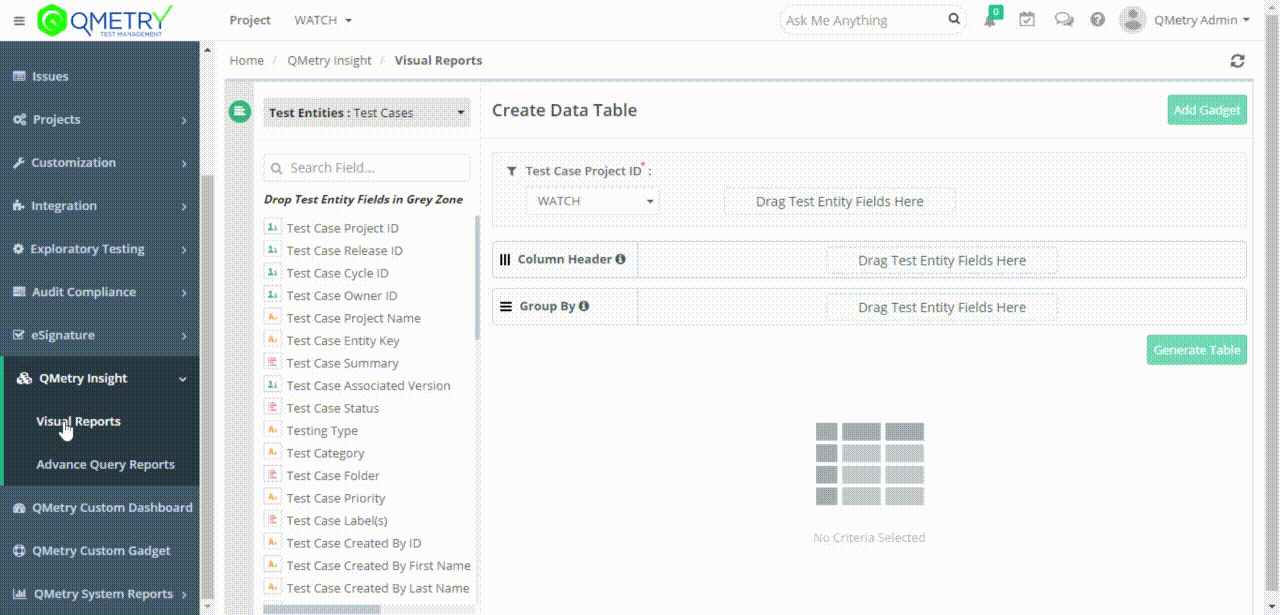 Business users need to select a module such as Requirements or Executions, then select the Test Entities or parameters they want in their report. The Visual Report builder comes with a super easy-to-use UI, at the same time providing all the elements that a user would require to create the Visual Reports.
They can select fields, select the type of graph, and generate reports of their own, using visual reports of QMetry Insights.
How can this help Decision-making Management?
Often system reports don't give you the insights that you require for making crucial decisions about the project. So, you create reports using Advanced Reports and Query Builders. These are the reports that give them the exact status of your project as well as the quality of the build.
However, there is a problem here. How to share these custom reports that can provide actionable insights with the management? Because, generally, your top management executives do not have access to Test Management Tools.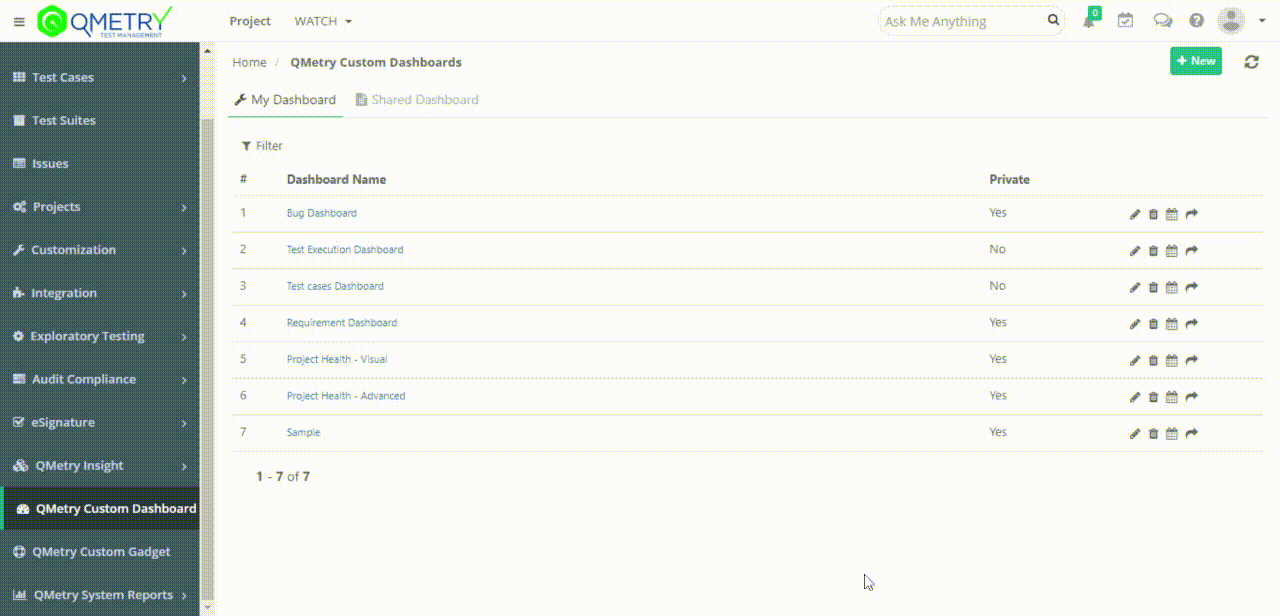 Hence, to resolve these aspects where management needs the reports without being logged into the system, we have the "Share embedded URL" feature.
Test managers can generate a URL for the custom reports and then share the URL with their management. This URL allows your management to investigate the report with real-time data without ever logging into QMetry.
Actionable Insights for your Agile Team
There has been lot of research and documentation about the best practices to be followed by quality analytics. With digital transformation and technological advances, there are many tools available in the market that follow these best practices. However, in the race to achieve these best practices, many tools have sacrificed the basic requirements such as intuitive data visualization, meaningful display of data, capability to handle large volume of data and many more. Test Reports should above all address the end user needs in the fast-paced DevOps and Agile environment so that users do not need to reinvent the wheel each time they need some information.
QMetry Reports which includes System Test Reports and Advanced Reports are built with flexible and strong architecture that follows three principles –
Easy-to-use Interface for generating complex reports
Actionable Insights to help in decision-making
Powerful performance to handle the high volume of data reports