Connecting Continuous Integration Tool Jenkins with QMetry
As digital organizations scale, the use of continuous integration becomes essential to keep up with growth. The use of CI/CD open-source tools such as Jenkins, facilitates software to be built and tested regularly. By doing so, organizations sustain high-quality standards and quickly fix bugs within shorter cycles. This approach goes hand in hand with QMetry's agile testing vision.
Now, QMetry Test Management for JIRA users can now integrate Jenkins to benefit from continuous integration for automated builds and tests. In this blog, we'll set an example exercise of how to easily achieve this.
Many organizations use Jenkins for Continuous Integration. At the end of build creation or deployment, they would like regression test suite to get executed on latest deployed build. Ultimately Regression Test results should go back to JIRA for analysis and reporting. Creating a test run in QMetry Test Management for JIRA with right tags and parameters is important. In this example we will demonstrate how you can set this up.
Continuous Integration Use Case
You can integrate Jenkins with QMetry Test Management for JIRA easily. For example, update pom.xml system property variables using Jenkins job.
Here, we are using cucumber based maven project https://github.com/qmetry/automation-cucumber.
In xmlfile, we have configured maven plugin for submitting test result to QMetry Test Management for JIRA.
These are system variables in xmlfile, which get updated dynamically as a result of build process.

Flow Diagram
Creating a Jenkins Pipeline
1. Create a new pipeline project in Jenkins server.
2. Configure your pipeline project. Add Project parameters and your SCM source as below.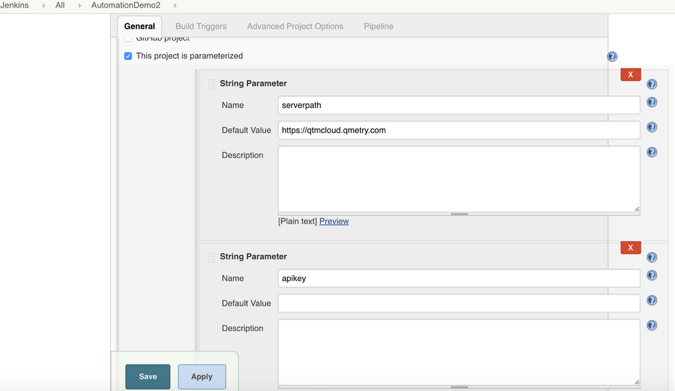 4. Click on Build with parameters link on left bar. Here you can see all the parameters which you have configured in Step
5. Click on the Build button to initiate the build process.
The back-end process on initiating the Build process:
Checkout of the GitHub project.
Updating user provided parameters in xmlfile using Grunt.
Test an automation project using "mvn test" command.
The test results will be submitted to the JIRA instance.
The next screen appears with the Stage View of different statistics on it.
Moving forward, hover the mouse over the Run statistics and click on Logs.
The Stage Logs opens in a pop-up.
Then, the URL highlighted in the logs depicts the JIRA issue created for automation. You can see the exact issue which is created through the build process.
Try QMetry Test Management for Free here. For more information, please contact QMetry Support team.
Please let us know if you found this information helpful by commenting below.