QMetry for Jira is Now Atlassian Cloud Security Compliant
Security is of a paramount importance for our customers and when it comes to cloud based products; these concerns are accentuated further. QMetry fully understands these concerns. Now, to mitigate the risk and provide very secured cloud based test management platform, we went through a rigorous compliance process designed by Atlassian for cloud based add-ons. And successfully achieved Atlassian Cloud Security Compliance.
QMetry is the First Test Management Add-on to achieve Cloud Security Compliance in Atlassian Marketplace
The 13 steps' process essentially focuses on data transactions, authentication, security standards, data recovery and legal compliance. Some of the key measures are:
Customer data coverage under prover jurisdiction
Proper information security policy to protect customer data
Formal release management and change control processes
Accreditation to relevant security standards like ISO 27001
Proper NDA & Confidentiality agreements in place across employees
Well-defined Business Continuity and Disaster Recovery plans
Periodic penetration / security testing to gauge threats, create audit trails and develop mitigation plan
Look for the Security and Privacy checks on Atlassian Marketplace to get to know more about the cloud security program from Atlassian to guarantee the highest quality from their products and extensions.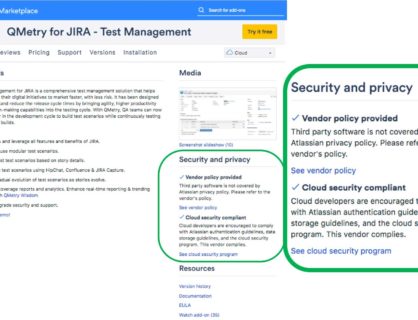 QMetry is the only Test Management Add-on to achieve this feat. Now, you can safely author and execute test projects with one of the best test management platform.
Try QMetry Test Management for Jira free for 30 days at Atlassian Marketplace. For more information on the product's features you can visit QMetry website for product details here.