About Us
QMetry is a suite of most comprehensive test management products to provide agile testing teams innovative technology platforms to deploy better Quality Software faster with confidence. It has more than 20 integrations. QMetry brand is trusted by 400+ customers globally across many industries including Finance, Healthcare Services, Travel & Hospitality, Retail, Education and High Technology.
Our Leadership
Team
The line-up of our senior leadership comprises highly driven and qualified professionals who have a rich and varied career graph. The one common thread that binds them together is their passion for all things technology and a vision for quality.
Vipul Jani
Product R & D
Vipul Jani has 20+ years of experience managing various global software product teams. Vipul has managed software products with thousands of users across the globe. He has expertise in R&D of software technology products that are available on Cloud and SaaS. Vipul has played a pivotal role in creating a unique culture at QMetry Inc. driven by killer technology, agile innovation and fun. Prior to joining QMetry, he was founder of Mirage Softtech, where he used his unique techno-commercial experience to lead and motivate high potential teams and ensure high quality products to the market. Vipul holds an MS in Computer Science from Utah State University and BS in Computer Engineering from Gujarat University. He is an avid trekker and nature enthusiast.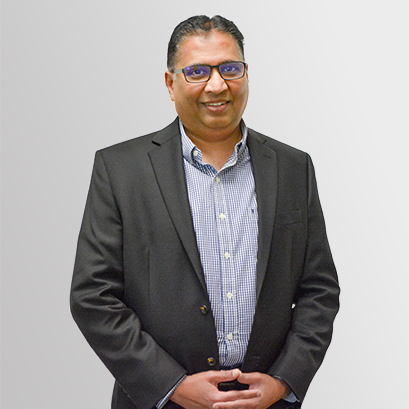 Girish Kagrana
Customer Success
Girish Kagrana is a Silicon Valley Business leader. He brings more than 20 years of blended business, management and technology experience from companies like Intuit, VeriSign, InfoGain, TCS. He works on business and revenue strategies, and Enterprise Customer Relationship. He is very passionate about solving customers' problems, and providing solutions that can delight customers – he is very focused on bringing Business Values to customers. He comes with experience in CRM, Security, Mobile, Financials/Banking Software, Enterprise Agile and Program Management, Intuit's Innovation/D4D (Design for Delight). Mr. Kagrana hold a BS degree in Electronics from Bombay University.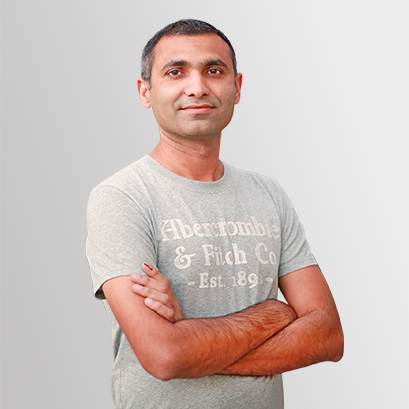 Vishal Jhala
Cloud Architecture
Vishal has 15+ years of experience in Software Product Development in various business domains like Quality Engineering, Security & Access Control Systems, Supply Chain Management. He is passionate about technology and has worked in broad range of technologies/ platforms including Desktop Applications, Mobile Applications, Web based portals, Cloud based SaaS products. He holds Masters of Computer Science Degree from Sardar Patel University. In his spare time, he loves going for walks/runs and seeing new places.
B.V. Jagadeesh
Advisor
B.V Jagadeesh is a Silicon Valley based serial entrepreneur since 1995 with a proven track record of managing and building market leaders. He has founded very successful companies such as Exodus Communications, NetScaler (acquired by Citrix ANG), and 3Leaf Systems. He has also been a Board Member and Investor for Ankeena Networks (bought by Juniper Networks), Ocarina Networks (bought by Dell), and Netmagic Solutions. He served as a Group VP and GM of Citrix Systems' Application Networking Group. He is now a Managing Partner at KAAJ Ventures. He has held management & engineering positions at Novell & 3com. He has a bachelor's and master's degree in electrical engineering from Bangalore University and University of Bombay, India respectively.
A History of

Continuous Innovation
From the first product launch to the latest version releases and test management tools, we have always traveled the path of continuous innovation and have enabled companies to achieve their digital transformation goals in the Agile and DevOps ecosystem.
2017
QMetry products capture the Atlassian marketplace

We are on a roll with release of QMetry Voyager, QMetry Analytics, and QAS version

Releases an Independent version of Wisdom app compatible with tools other than Jira

QMetry adds Test Analytics along with Test Automation to its arsenal
2016
QTM4J is released on Atlassian Marketplace

A new and improved version of QAS is released

QMetry Wisdom for Jira – predictive QA tool is launched

QMetry Open API enhances integration via RESTful API

Launched open source QMetry Automation Framework

QMetry makes waves in the Atlassian marketplace

QMetry now offers Test Automation along with Test Management
2015
QMetry leaps forward with new enhancements and upgrades

Development of QTM4J begins
2014
QMetry Version 6 released with major UI/UX enhancements &Big Data capabilities

QMetry 6 includes dashboard improvements, real-time visibility, enhanced coverage and reporting
2013
QMetry Enterprise offers Jira integration filling a major void
2012
QMetry is revamped and released in a brand-new avatar

QMetry Automation Studio makes its debut
Careers
@ QMetry
Create & Inspire
As QMetry leapfrogs into the future, we look for that spark of enterprise and an out-of-the-box imagination
Advance
If you are not looking for just another job, then opportunities are rife at QMetry across our many offices, divisions and engagements
Have fun
There's never a dull moment @ QMetry. We are a bunch of fantastic, fun-loving, dreamers, thinkers and doers.